Great stories make both an emotional and intellectual appeal
Unveil your narrative to unleash possibilities
You have no lack of ideas. The challenge is making your ideas happen. Maybe you want to launch a new business or product or you want to take your business in a different direction. You want to grow your leads, write a book… You want something you don't have.
Whatever it is you are striving for, you have to be able to tell a compelling story so others can get excited and get on board – to invest in you, work for and/or with you, talk about you, BUY from you.
It is a scientific fact that story is the catalyst to effect the change you seek.
The Science of Story
Things like hugs, connection with a loved one, and intimacy trigger the release of a hormone in the brain called oxytocin. When oxytocin is released, we experience feelings of trust and connection. It's a survival technique that has existed since the time we inhabited caves. We have received a signal from our brain, loud and clear, that we are in a "safe place."

You know what else triggers the release of oxytocin in the brain? A good story. True story!
A good story captures our attention as we anticipate what will happen next. It produces empathy and understanding as we live through its characters vicariously. These feelings of tension, anticipation, and empathy trigger the brain to release oxytocin. Take it further, stories are emotional and personal and therefore engage more of the brain. Facts and data use only the auditory cortex while, story uses the motor, sensory and frontal cortices. Engaging more of the brain makes things easier for humans to remember.
From the perspective of the brand, once we get attention, create trust and empathy and stay top of mind, we are more likely to motivate behavior.
Great stories attract loyal employees, price-insensitive buyers, and dedicated investors.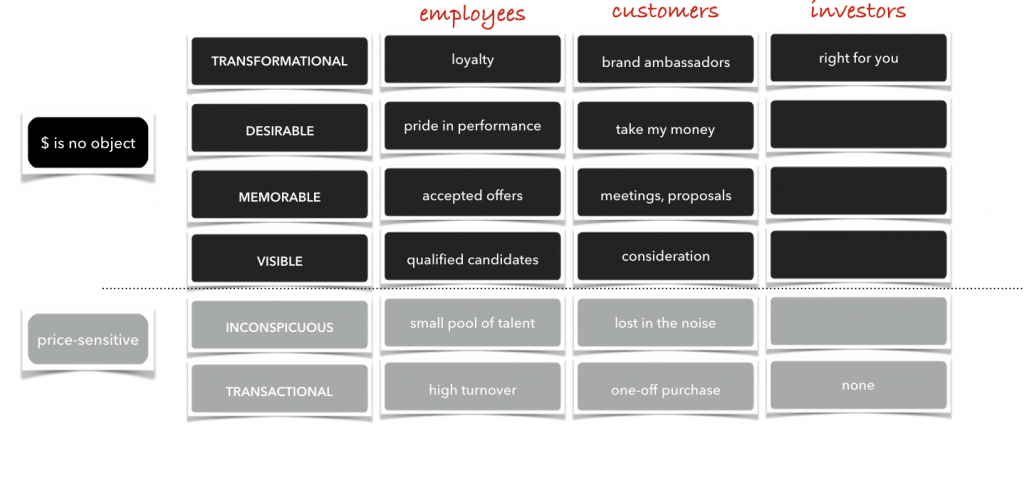 This program is for purpose-driven leaders who want to advance their idea and inspire change.
How it works:
Discover: Investigative journalists uncovering the stories. Surveys, interviews to understand the audience, understand the organization.
Tell: Story crafting. action plan for story development
Match: Identify which stories we need to achieve objectives. Match the story to the need.
Distribute: Source and delegate for multimedia outreach. Map out a timeline and plan for the next three months with story ideas
You know you are much more than what you are communicating to your audience.
This program is for purpose-driven leaders who want to inspire change.
You feel like you are getting lost in the noise but have an impact to make.
You want to build your own personal brand.
Your marketing feels scattered and ineffective. A lot of ideas, not a lot of focus and follow-through.
Three-month coaching engagement with weekly calls of one hour and email correspondence.
Prep work includes surveys to customers, employees and leaders
$4500
How we use the time: 
This process is highly flexible to meet different needs and goals. We'll start with a discussion on business objectives and vision for the future to ensure our tactics are purpose-driven. Some items in the process list will require more or less time depending on that initial conversation. Some weeks might require more research/homework, some of it you'll already know and will be easy peasy.
Weekly calls (one hour). Using the Big Leap Process as a backdrop, we start by digging into your goals and challenges and outline a course of action to get you where you want to be.
Slowly but surely, we roll out changes and activities you can do each week. BLC keeps you on target with goals and action plans, and answers your questions, points you in the right direction when it comes to technology. A marketing comfort blanket, if you will.
Correspondence throughout the week.
Time commitment?
We work as an advisor and collaborator. If you don't have time to commit to the process, you will more than likely be disappointed with the outcome and none of us want that to happen. So how much time are we talking about? The short answer is: It depends. Ideally, you'll want to be able to allocate two to five hours per week, understanding there will be fluctuations. One of the first things we'll discuss is the amount of time you'll be able to allocate realistically so we can prioritize accordingly. Of course, the more time you can invest, the better and faster the results will be.
Story framework
We don't have a cookie-cutter template for developing stories. If we did, everyone would be doing it, it would be easy, and the results would be boring. We do, however, always start with a simple story structure to make sure we are building on something that is going to make that emotional connection – that will get attention, create trust and be memorable.
From there, we dive into a process to unveil a multitude of story ideas that do any combination of the four elements in the graphic above.
That's why we'll walk through who we are trying to reach, what they care about and how to move them through the decision making process from getting attention, to building trust and credibility, being memorable, influencing action. <— that's the spectrum we want to address, for each audience segment. We'll explore story types and possibilities like what metaphors can we use, what context can we provide, etc. You'll end up with a plan/grid of story ideas and possibilities (sometimes it's just a working doc because we won't tackle a lot of different things but will add to the grid as we progress).
Distribution
You can't just create content and people will flock to it. We'll want to have a plan for how we get the stories discovered.
Like snowflakes, every engagement is different. The first few months will determine how your process will unfold to get you where you want to go.
We'll lay out a plan and I will keep everything on track and make sure loose ends get tied up.

If you are thinking, "Hey, this looks good, but we need more than this. We need you to come in and talk to the team, and help us with full-blown implementation," let's talk. get in touch below.
Ready to take the leap? Apply here and I'll be in touch!