for Financial Services Professionals
There are a gazillion* people doing what you do. (*I don't have actual statistics of the number of people in your profession, but I feel comfortable using "gazillion" as a default here). So why would someone choose you to over the others? What sets you apart? How can you build trust with people who don't know you? 
When you communicate to connect, you create relationships that helps you to attract the right clients, retain them and grow your practice through referrals. It's a way to elevate your practice from "who are you?" where you are working hard to make the case to "take my money" where you are fielding inbound requests.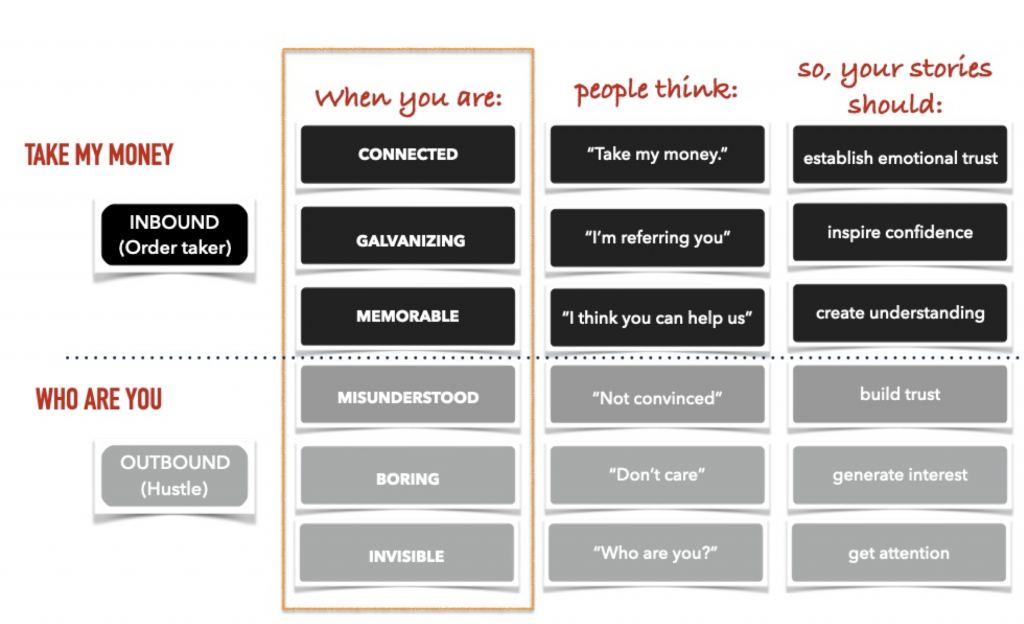 We tell different stories for different objectives. So, depending on where you land on the scale above, we can get clear on what we want our story to achieve. To be relevant and compelling, you want to match the story to the need. <—- By the way, that is a fancy way of saying engage in a conversation.
Here is where we tend to go wrong: The way you talk about your work is not the way your clients experience the work. Finance is about money and analysis, but for your clients, it's an emotional thing. Studies have shown the biggest challenge for financial advisors is making first: emotional engagement and also, managing expectations.
There is often a disconnect between what you want to talk about and what they want to hear.
I want to help you communicate to connect, retain and grow. Creating deeper relationships establishes more fulfilling and satisfying work. Imagine spending your day working with people you enjoy working with.
Whats in the program
Through one-to-one coaching or group training, find the right stories to attract the right people. We'll explore the pillars of connection to develop a "quiver" of stories you can draw upon; discover where to source your stories and best practices to tell your story effectively.
Interested in bringing Lisa in to speak, run an in-house training for your team or a one-to-one coaching program?
Great – let's schedule a 30-minute call.
---
YOUR GUIDE
Every good story has a guide. If you choose to answer the call to adventure, Lisa would be honored to be your guide. Lisa Gerber is a communications and storytelling expert.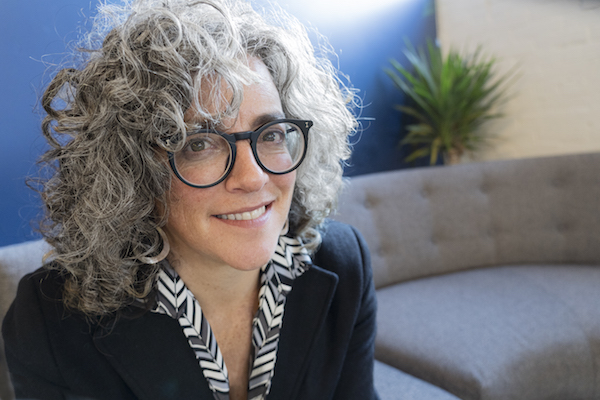 She is the creative behind the renaming of regional animal welfare organization Better Together Animal Alliance. Her work has also contributed to the passing of education tax levies and initiatives to fund teacher learning communities, as well as public input gathering for a major cleanup project that increases public access to waterfront.
Communicate to Connect is a program developed from her 16 years doing brand storytelling for clients in the public and private sectors.
When she is not in her office, she might be out skiing or trail running. This is where she does her best creative problem-solving.
Follow her blog at bigleapcreative.com/blog. Her podcast Breaking Trail explores the great stories of outdoor active professionals and entrepreneurs who are redefining the way they do life and business. Lastly, she speaks at conferences nationally on storytelling and taking big leaps.
Interested in bringing Lisa in to speak, run an in-house training for your team or a one-to-one coaching program?
Great – let's schedule a 30-minute call.