Studies show storytelling works. In a study by Network for Good, 56 percent of nonprofits reported an improvement in giving after implementing storytelling. (Hang on, you say, what's up with the 44 percent who didn't report an improvement? They said it was either too soon or they didn't know because they have a hard time measuring the impact.) (Source)
Stories create understanding, build trust and credibility, and inspire action.
But, it's easier said than done. How do we get started? How can we do a better job of telling our story? Where can we find the stories? I'm sure these are just a few of the challenges you face.
This workshop will help you and your team learn to tell stories strategically so you can accomplish your desired outcomes. Developed from my 16 years of doing brand storytelling for clients in the public and private sectors, I will work with your team to create a system that elevates your organization from "so what?" to "so funded."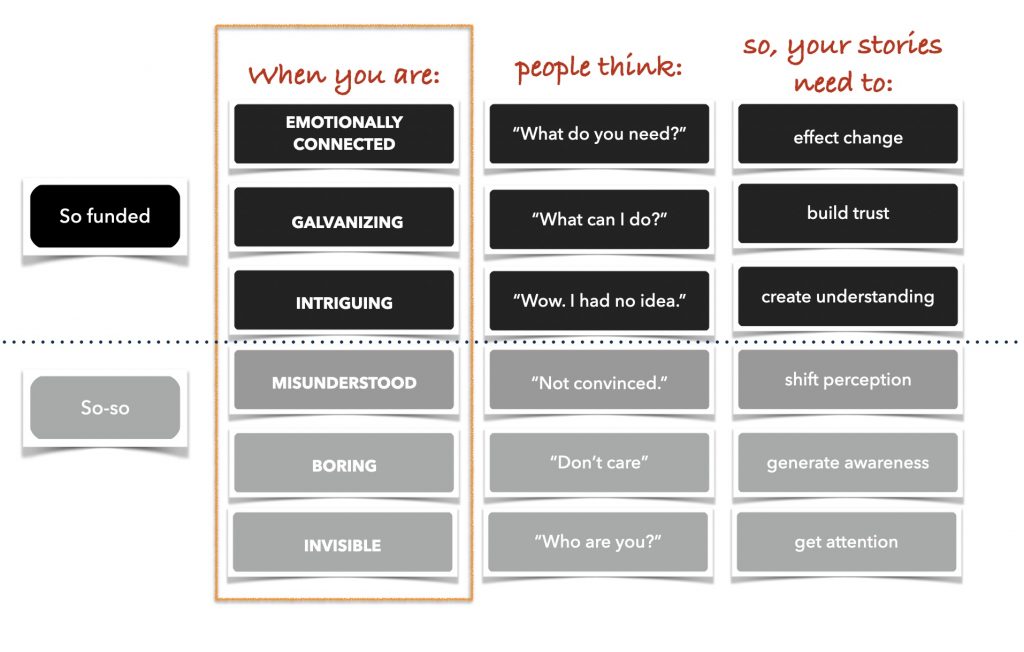 What's in the Program:
Module 1: StoryLISTENING – Learn how to be curious, how to interview, and how to gather the stories. Through a journey of inquiry, we'll uncover a list of compelling stories to tell for varying objectives (we have more than one story to tell!)
Module 2: StoryCRAFTING- What makes a story meaningful? Participants will identify a story to workshop. We'll spend time crafting, editing and preparing for delivery.
Module 3: StoryTELLING – Practice delivery of the story and refine with feedback from Lisa and colleagues.
What others say about it:
Thank you for the great session! Thinking through storytelling helped me strengthen an LOI I am working on.
She was very engaging. She reminded me of one of my favorite professors I had in college. I enjoyed doing the breakout rooms and getting more input on how to be an effective storyteller. I will definitely be looking into reading some of the books she suggested.
This was an element I wasn't sure would help me although once we got into the training wow! Lisa provided the story element on how you can make an impactful grant proposal with a story. The knowledge of a story can make the grant proposal more impactful providing greater success. Nice one Lisa.
Lisa isn't afraid to explore ideas, inspire new ways of thinking, or uncover dreams you've been hiding out of fear they wouldn't work. She helped our small nonprofit tell our story in a new and better way and she helped us discover who we really are.
Lisa is a very talented storyteller who has helped us elevate the positioning of our organization within the community. She has a knack for taking complicated dynamics and making them easy to understand. She understands what we are trying to achieve and has helped provide a steady drip of individual stories that speak to our higher mission.
"I have to say I thought she was WONDERFUL!! I saw value in the writing portion, once my thoughts hit the paper I couldn't stop. The breakout groups provided a great way to move on to each part of her program. I loved it!"
The way in which Lisa facilitates conversations honors space for all being said, she's able to maintain the energy of the room to flow in a way that feels balanced for everyone. She is able to listen to and navigate through both calm and tense environments that respect whatever needs to be said while understanding the momentum needed for action.
Connect here and let's schedule a time to talk.