We had to cancel the client's Gala in the summer of 2020 due to the pandemic. After all, we can't sacrifice the health of our community for the mission of the organization. It's our largest fundraiser of the year, attendees always look forward to it, and now what would we do? The school system (and our future generation!) needs our grants more than ever and our biggest funding mechanism disappeared.
Remarkably, when we sent out the notice of cancellation, checks started coming in, anyway. Now, they didn't (yet) make up for what the event raises in a typical year (sans-pandemic) but we were still months out and had backup options in mind to cover some of the ground.
We found comfort in the feedback which, in summary, was: "We are sad you won't be having the event this year but take my money, anyway."
Take my money, anyway.
Teams are stretched thin right now and getting your organization noticed (and funded) is more difficult than ever as donors are being more conservative in an uncertain economy. Often you feel invisible in a crowded market where everyone is vying for attention within a finite pool of philanthropy.
You're making an impact, but you have so much more potential and you don't know where to start or how to do it with limited resources. What's more, your board of directors has one idea and the staff has another on best strategies.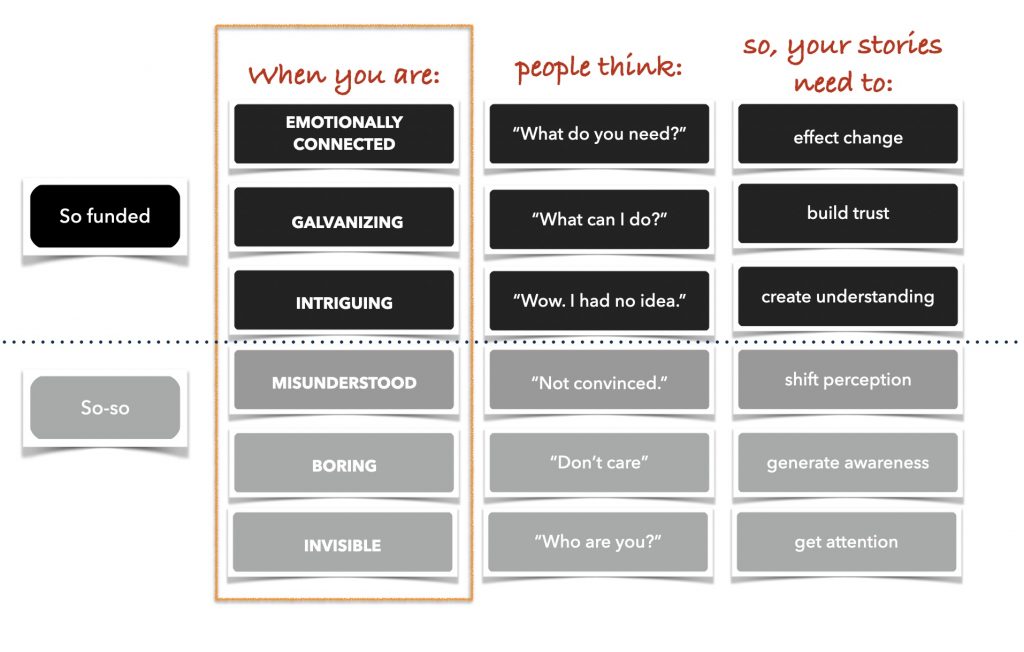 Highly respected organizations rise above these challenges. The bumps are smaller, the road is smoother. They do it through effective storytelling that get them noticed, remembered, influences action and gets them funded.
Meanwhile, when you fall below the dotted line, a lot of your work is the heavy lifting to make the case for why you exist.
The reason many organizations are challenged to achieve this is often due to misalignment in the board and the staff. Some don't understand the power of storytelling. Others do, but they don't know where to start, and don't know how to tell a good story.
More importantly, stories create pride from within and establish emotional connection. Studies show storytelling works. In a study by Network for Good, 56 percent of the nonprofits reported an improvement in giving after implementing storytelling. By the way, 44 of the organization who did not report an improvement either said it was too soon, or they didn't know because they have a hard time measuring the impact. (Source)
The greatest pitfall in storytelling is not doing it strategically; in a way that is designed to accomplish outcomes.
Get Funded is a training program developed from my 16 years doing brand storytelling for clients in the public and private sectors. Now, I want to show you a repeatable process to elevate your organization from "no way" to "take my money."
What's in the Program:
Module 1: StoryLISTENING – plan, listen, dream
Module 2: StoryCRAFTING- structure, create, condense
Module 3: StoryTELLING – process, momentum, leverage
Who should attend:
For non-profits with a staff of at least four people who have the capacity and the passion to invest time in authentic storytelling.
Purpose-driven for profit organizations who know you have an impact to make but aren't doing a great job articulating.
At the end of nine months, you and/or your team will have the skills and a repeatable process to gather, craft and tell stories that get you noticed, remembered and funded.
Sounds good, but it's not exactly what we need – let's connect and I can put together a custom package that solves your challenges.
What others say about it:
Thank you for the great session! Thinking through storytelling helped me strengthen an LOI I am working on.
She was very engaging. She reminded me a one of my favorite professors I had in college. I enjoyed doing the breakout rooms and getting more input on how to be an effective storyteller. I will definitely be looking into reading some of the books she suggested.
This was an element I wasn't sure would help me although once we got into the training wow! Lisa provided the story element on how you can make an impactful grant proposal with a story. The knowledge of a story can make the grant proposal more impactful providing greater success. Nice one Lisa.
Lisa isn't afraid to explore ideas, inspire new ways of thinking, or uncover dreams you've been hiding out of fear they wouldn't work. She helped our small nonprofit tell our story in a new and better way and she helped us discover who we really are.
Lisa is a very talented storyteller who has helped us elevate the positioning of our organization within the community. She has a knack for taking complicated dynamics and making them easy to understand. She understands what we are trying to achieve and has helped provide a steady drip of individual stories that speak to our higher mission.
"I have to say I thought she was WONDERFUL!! I saw value in the writing portion, once my thoughts hit the paper I couldn't stop. The breakout groups provided a great way to move on to each part of her program. I loved it!"
Connect with me to learn more.