Make your idea of change happen
This coaching program is designed to help you make your idea of change happen through more effective storytelling. You know your business but are so immersed in it, you aren't sure how to talk about it. You are full of ideas and need a partner, some guidance to keep you on track, and use story as a catalyst for their change.
Reach your audience more effectively
The competition for attention is tough and many of us are getting lost in the noise. If you aren't making an emotional connection, you aren't giving your audience a compelling enough reason to take action with you. This coaching program will help you take your organization from overlooked, where you are continually working to convince your constituents, to sustainable, where they are asking you to take their money.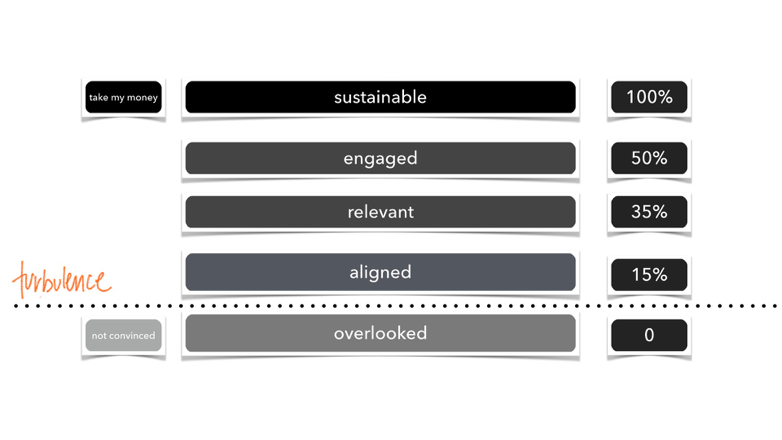 I believe that great stories have the power to make the world a better place and I want to help you do that.
If progress = productivity, then there is an equation of mindset and behavior that determines the ability to get "there." (The proverbial "there" we are all trying to reach which we never get to because it's continually moving away like your older sibling who messes with you when you try to get in the car and he/she guns the gas every time you approach.) In this case, "there" = creator, not as in The Creator, but a creator. The person you see elevating their positioning, getting out there, doing things, making life happen in their favor.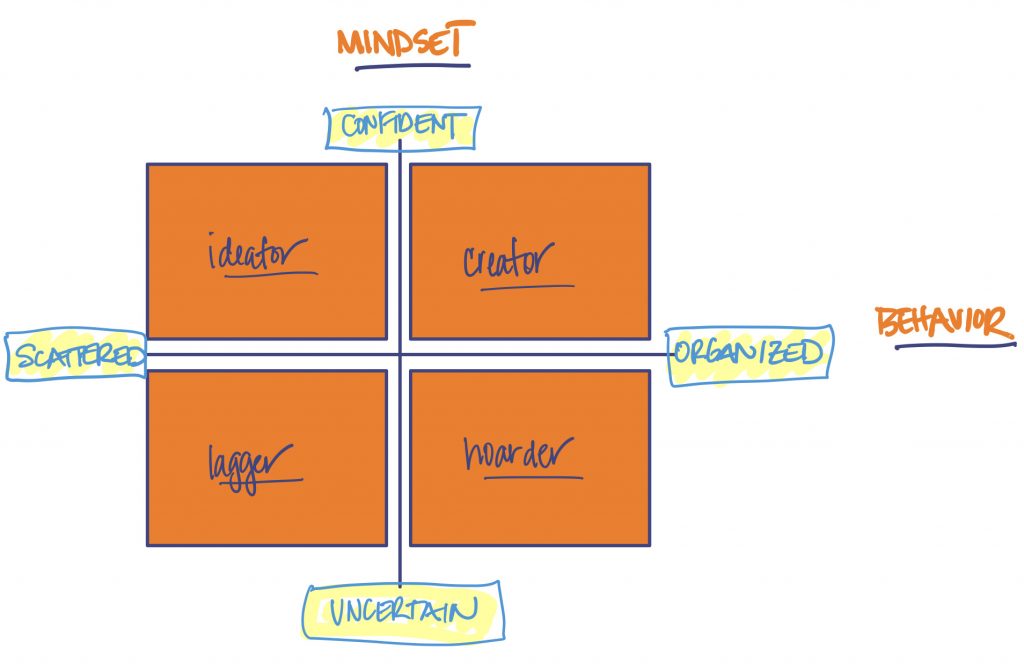 Mindset is a scale of uncertain to confident and behaviors (systems and habits) is a scale of scattered to organized.
We operate all around this quadrant daily. Our goal is to maximize time in the upper right.
The lagger: struggles to get anything done. Low energy, uncertain. Netflix afternoons.
The hoarder: has lots of ideas but keeps them to herself. The perfectionist.
The ideator: ideas abound, but follow-through is lacking. No compass.
The creator: aspirational.
Where do you fall on the spectrum?
The thing is, ideas are easy. Making them happen is another thing. If you'd like to read more of my thinking on the topic, you can download Essays to Inspire You to Make Your Idea Happen.
How it works:
Baby steps first. We always look before we leap. Remove the obstacles holding us back. Make the plan.
Push the comfort zone. What is the story – about you, your practice or business, what do we need to tell to help you move from transactional to transformational?
Tools: Identify the tools and technology to implement the plan.
This program is for purpose-driven leaders who want to inspire change.
You feel like you are getting lost in the noise but have an impact to make.
You want to build your own personal brand.
You feel scattered and ineffective. A lot of ideas, not a lot of focus and follow-through.
Five-month coaching engagement with bi-weekly calls of one hour and email correspondence.
Prep work and templates included.
Strategic storyteller
Lisa Gerber loved getting lost in stories at a young age. It was through those stories she decided to move west to the mountains and do things a little bit differently than what she was exposed to growing up in New York. Ever since then, she understood the ability of stories to make an impact on people's lives. They affect how you show up in the world and are the catalyst for change. To that end, she advises CEOs and entrepreneurs how to articulate their ideas so they can make their goals and visions come to life, helping them navigate the ever-changing digital maze along the way to influence their audience to take action. She works with organizations around the world in person or from her home office in the Selkirk Mountains of Idaho.
What others say about it:
After the pandemic shut my business down for 2+ months I wasn't sure how or if I would recover. Lisa was incredibly helpful by pointing out the areas that I could focus on to bring in new business, and also providing good solid ideas on how I could engage with my past clients for repeat business and ask for referrals which was an area I was weak in. She helped me break down the tasks to small doable steps and I started to see the positive results almost instantly! Plus Lisa made me comfortable from the first Zoom meeting and I could tell she cared and she was really listening to my concerns. That was huge for this solopreneur! My business is stronger thanks to Lisa and her guidance!
I was thinking about all the positive changes I have made in my life and business in the last year. You were a catalyst that helped me connect with more of what I needed to be doing. As such, I trust my instincts a lot more now, with your encouragement.
---
Ready to take a big leap and launch your idea? Contact me to learn more.