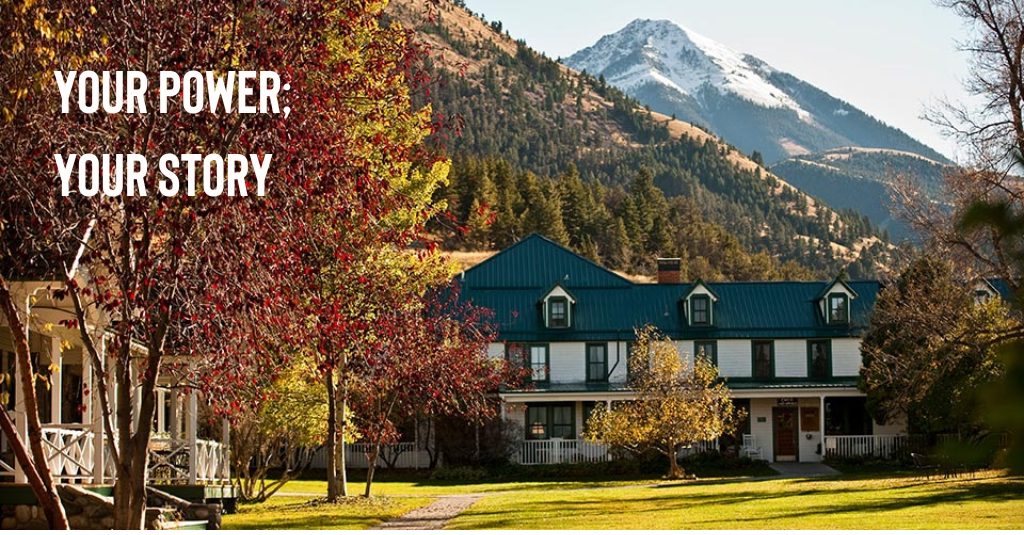 October 7th – 9th
Leadership Retreat
Chico Hot Springs, Montana
Rachel Gooen and Lisa Gerber
Everything starts with you.
One of the greatest gifts you can give yourself is time away on your own to reflect and develop yourself in light of your profession. We offer you the opportunity to develop your potency to shine. To shape your story of how you work to protect the earth and care for people and make space for YOU at the same time.
Now is the time for you to start with yourself, what is fulfilling and what needs to be removed, where do you need to grow, so you can do the heavy work of your organization. To learn how to clearly share the story of how your organization is a lot of work… it is everyone's work.
You will leave this retreat ready to live a life you are excited about and be proud of. Whether you feel stuck, short of your potential or even fired up and doing great, there is no more important thing than taking time to do some good focused work without the distractions of the day to day.
In this two-day retreat in relaxing and stunning Chico Hot Springs, Rachel Gooen and Lisa Gerber will take you on a personal journey to help you reset, restore and rewrite.
We will think well, eat well, and be well. Most importantly, you will gain clarity around your goals and the telling of your stories – transforming the stories that no longer serve you into the stories that deliver and serve you well. It's time for a new story. Your power; your story.
We will begin at 4pm on the 7th and leave at 3pm on the 9th.
October 7th: welcome, intention-setting, getting to know each other. Dinner together.
Day 1, October 8th: Find your power: Led by Rachel, we will: Clarify inner wisdom, identify obstacles, and share a vision of yourself with other attendees.
Day 2 October 9th: Tell your story: Your story is your gift to the world. On day 2, we'll take all the rich soil we just uncovered on day 1 and learn how to use story to step into your power and stand up for what matters for you and your organization.
Your power. Your story. Through writing, art, movement and neuroscience, you will leave with a clear picture and plan to move forward into your potency.
Are you ready to take this time and space to design the next few years of your life? Let's do this.
About Rachel
Rachel is an emotionally intelligent facilitator informed by behavioral science. She catalyzes individuals, teams and organizations to create change by developing their communication, resiliency and impact. She works with purpose-driven leaders and teams to connect them to their purpose in a collaborative manner.
Through her workshops and facilitated sessions, she has worked with leaders in conservation, health prevention, community planning, food systems and sustainability. She is also a licensed clinical social worker. When she is not working she is eating too much cake, floating, skiing, hiking and exploring the wilderness with her partner Jeremy and their 3 dogs.
About Lisa
Lisa is a story strategist and communications expert who works with purpose-driven leaders to connect with the communities they serve and influence action. Through her workshops and keynotes, she has worked with leaders in conservation, wilderness education, and animal welfare, and health and wellness.
She is the author of From So What? To So Funded: How nonprofits use story to create impact and change the world and hosts the podcast Breaking Trail. When she is not in her office, she might be out skiing, trail running, or mountain biking with her husband and dogs. That's where she does her best creative work. You can learn more about her here.
Investment: $850
including all meals from Saturday night through lunch on Monday.
For accommodations, see below.
Questions? Ask us now.
Logistics: We recommend you arrive by mid day October 7th so we can enjoy an afternoon start at 4pm on the 7th.
Accommodations: We will be staying at Chico Hot Springs Resort -and have reserved a block of rooms ranging in price from $100 – $205 located in the Fisherman's Lodge, the Main Lodge, Warren's Wing and the Lower Lodge. To reserve your lodging please call the Chico Hot Springs reservation desk at 406-333-4933 and reference the Your Power, Your Story conference.
Meals: All meals are including Saturday night dinner, breakfast, lunch and dinner on Sunday and breakfast and lunch on Monday. (We will gather dietary restrictions information on your registration form.)