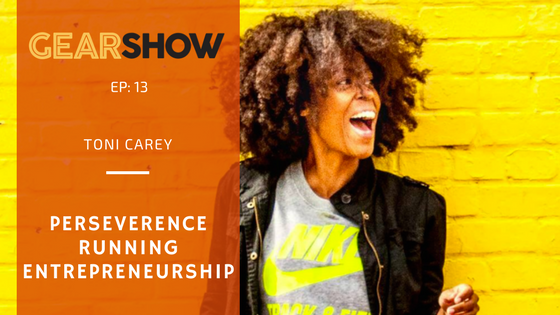 Today's episode is a bit about perseverance. It's about getting into something and sticking with it (we talk about running, but it's a metaphor for anything). It's also about recognizing that we all have crazy. There is no avoiding it. But we can hang on tight and try to have a fun ride. 
I talk to Toni Carey, co-founder of Black Girls Run, a hugely popular movement with running groups all over the nation designed to motivate black women to get out and move and provide a social place to do so together.  Toni and I talk about how she built a community that grew faster and beyond her dreams and how she forgot to take care of herself for awhile and got back into it. 
Can you have it all? A thriving business? loving relationships? AND stay fit and sane. We deserve it and there is no such thing as balance; only trying.
Toni has some tips for those of you who want to run but can't seem to fall in love with it. Hint it doesn't mean you have to run: but she has ideas for both sides. 
A few side notes: In this day and age, we have friends we consider good friends and colleagues yet we don't know exactly how to pronounce their last names. This happens in this episode because I want to thank April Sciacchitano for suggesting Toni as a guest and introducing us. I wish she had an easier to pronounce name because I think I butchered it during this conversation, which is embarrassing because April and I have worked closely together for several years. And still, every single time I type her name, I have to spell check it. Regardless, thank you, April!
I also want to thank Ralph Rivera  – a friend, an owner of three businesses, and the co-host of the podcast Carbon Based Units  – this is a great podcast for entrepreneurs and marketers – they talk about everything. The reason I want to thank him is that when I started recording this particular interview, I had a feeling something was awry (with the audio) but what did I do? I carried on with it and did nothing. At the end, I discovered the input wasn't set properly and the audio was horrible. Ralph to the rescue. Thank you, Ralph. It's good having friends who want to help. and the lesson? be a better listener of your gut. Always.
Please let me know how YOU got into running and stuck with it. What is your story? Have a guest you'd like to recommend? or a question you'd like answered? I'm all ears. In the comments or here.
Links mentioned:
Where to find Toni:
Want to do me a huge favor?
Make sure and get the next episode in your inbox – subscribe right up there, top right of this page.
If you enjoyed this podcast, I would LOVE it if you reviewed it here on iTunes! It makes a big difference!
Listen to it here:
or here or here:
[ssba]