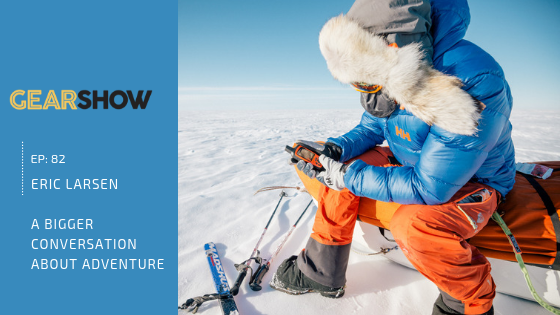 Eric Larsen travels to wild and specifically cold places to cast a spotlight on climate change and the melting Arctic. Today, we will have a bigger conversation about adventure.
In 2006, he a 62-day expedition to the North Pole pulling a 250-pound sled for 550 miles. Men's Journal named him one of the 25 Most Adventurous Men of the Past 25 Years. Polar adventurer, expedition guide, dog musher and educator, Eric Larsen has spent a lot of time traveling to some of the most remote and wild places left on earth. He is one of only a few Americans to have skied to both the North and South Poles. In November 2009, he returned to Antarctica for the first leg of his world record Save the Poles expedition. This time he completed a 750-mile ski traverse to the geographic South arriving on January 2, 2010. Two short months later he was dropped off at northern Ellesmere Island for a winter-style North Pole Journey. The international team reached the North Pole 51 days then on Earth Day – April 22, 2010. He completed the Save the Poles expedition by reaching the summit of Mt. Everest on October 15, 2010, becoming the first person in history to reach the world's three 'poles' within 365 days.
We also talk about how the Arctic has changed over the past two decades. Eric is one of the few people who have seen this firsthand. Lastly, how do you juggle all this while being a dad?
Where to find Eric:
Want to do me a huge favor?
Reviewing and sharing are the most helpful ways to get this in front of new listeners.
Make sure and get the next episode in your inbox – subscribe right up there, top right of this page.
If you enjoyed this podcast, I would LOVE it if you reviewed it here on iTunes! It makes a big difference!
I really want to hear from you – questions, topic and guest suggestions, anything. Talk to me in the comments below or here.
See you next week!
[ssba]