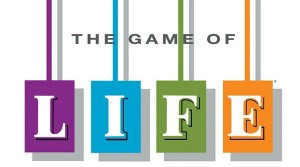 I was denied a favor the other day. It was fairly insignificant, but I was surprised, mostly because I had an expectation; one in which a favor would be returned. But I'm supposed to do favors without expecting anything in return.
Which made me wonder about this idea of social capital – that you help and give (specifically in the online world) expecting nothing in return. It made me think about time management and how we choose to spend it, and wondering if Seth Priebatcsh is possibly achieving his goal to add a game layer to life.
Perhaps my expectations were too high, but in a world where we give of our knowledge, our expertise, and our time, when it comes to seeing a return, we sort of kind of expect one.
Even though we say we don't.
We have a joke around our house about scorekeeping.
"Hey – the knife is dirty. I thought I asked you to clean it when you put it back on the cutting board."
"I'll stop if you'll stop hanging your shirt over the bedroom door."
"OK, scorekeeper."
Always scorekeeping. We can't help it. Everything is a competition.
Leaderboards abound. My Runkeeper app now allows me to track my training against my friends; not my races – my training. Am I training more or less than Susie Q? Am I faster? I actually LOVE this – it makes me train harder. But you see where I'm going, right?
We get paid for work we do. We get thanked for deeds we perform. We win medals for races. We get badges for achieving levels.
There is no such thing as a selfless act. We expect something in return even if it's simply the feeling of having helped someone.
I love being helpful. I really do. It  makes me happy when friends and colleagues ask me for something. Often, I'm honored. It means they respect my ideals or feel comfortable enough in asking me. I help because I want to; not because I want to be repaid in some way.
Maybe.
Social Capital
I like to think of myself as someone who gives without keeping score. But let's be real here, that's kind of a lie, because when the time comes when I could use a favor, I register surprise at being denied. I'm just not zen enough to blow it off.
And yet, I struggle with the concept of social capital because it fosters a culture of scorekeeping. Life: gamified. It's happening in the subtext whether you choose to acknowledge it or not. It's hard to escape – even when I'm just having a discussion with my husband at home about who's going to take the dog outside in the middle of the night for an emergency potty break: "I took her out last night." Or when I'm in yoga class trying to beat everyone in the room.
"I'm Too Busy"
You and I make choices every day on how to spend our time. Everyone is busy. Not having time for something means we choose not to make time for it. The other day, I had time to go for a two-hour trail run, read a book on my deck for an hour and walk my dogs in the woods. I also had time for some client work. I did NOT have time to help out with trail work party or for a "pick my brain Skype chat" with someone requesting it. I felt a little bad, but I've been working hard and traveling a ton lately. I made the choices what to do with my time.
I'm busy = I choose not to make time. And that's OK – I don't have time for a LOT of things. I get it! Just don't make it seem like it's something that it is not.
I don't have any answers – just questions today. Curious to know your take. I'm off to yoga class. Wish me luck. I'm pretty sure I can win tonight.
---
Download From Transactional to Transformational: Elevate your organization's positioning with effective storytelling.
[ssba]