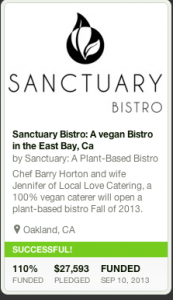 Working closely with my client, we recently successfully completed a Kickstarter campaign to fund their vegan bistro in the East Bay, California. It was funded, we drank heavily, and I'm now sober enough to share with you the lessons learned.
1. Kickstarters are not for the faint of heart.
Oy. Do not underestimate the amount of work these involve. And from an agency standpoint, it's really a nerve-wracking campaign to run because it's all or nothing. Other campaigns, we can adjust and modify along the way until we reach success. With Kickstarter, if you don't fund it, the client just paid you a whole bunch of money for nada. Of course, let's not detract from the stress levels involved on the client side. Did I mention it's all or nothing? They want more than anything to fund their business idea so let's talk about what exactly it takes.
2. It has to be a really good idea.
Not only a good idea, but a unique idea. There can't be other options out there. For your buyers to back your project and endure countless follow up messages and wait and wait and wait for actual delivery, you have to have something worth waiting for; worth being excited about. It has to be something they can all rally around, and be enticed enough to share with their networks because they really want it to happen, too.
More than likely, you don't already have a big platform so you are going to rely on word of mouth. If you're launching something I can get at the store in town, I'm exhausted already – not interested. On the other hand, if, like my client, you are launching a new vegan option – a place to gather and go out at night at a fine dining establishment, this is something the vegan community can put their arms around. This is something they are going to shout from the treetops for.
3. How long should you run the campaign? Go short, but plan in advance.
Kickstarter gives you the option to run your campaign from 30 to 60 days. They recommend going shorter. We were nervous so we went longer. Here's what I suggest: Go shorter but give yourself plenty of time before you launch to plan out #'s 4 and 5 below. We just started immediately and shot from the hip along the way. In hindsight, I'm happy we went for the 60 days because it gave us time in the middle to figure out the grand finale, and the content sharing strategy, and the communication strategy. We had a lull in the middle 30 days. Check out this graph to see progress. Spikes at the beginning and spikes again at the end. Go short, but have everything planned out before you launch.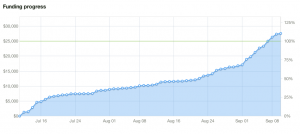 4. Have a content creation and sharing plan.
This is the meat of the whole shebang. (I guess that's a bad metaphor when I'm using a vegan restaurant as an example.) You can't just pump out messages asking people to fund your Kickstarter – you have to provide value in content so people want to help and want to share. What will that be? For us it wasn't too hard – we shared Chef Barry's own recipes, created video demos of cooking techniques and recipes, and we participated in blog carnivals (sharing recipes) Always, the call to action was the Kickstarter campaign.
In terms of content sharing, the vegan community is a very positive and tight-knit community. We shared content from other vegan bloggers as well as animal rights and rescue farms. They all have the same mission of compassion. Find a common ground, connect and share. Help others out and they will help you.
5. Create a communication plan.
You'll have a few channels for communication as you move through this.
Kickstarter updates. Kickstarter provides you the ability to update your backers at your own schedule. You can provide video and text updates. We did weekly updates with progress on the restaurant, a video here and there, and always a call to action. We either asked them to share the campaign or upgrade their reward. Upgrading rewards is like organic growth from current customers. This was a big focus for us. Towards the end, backers at the lower end of the spectrum were motivated to upgrade their reward as we added new rewards – people sometimes doubling their reward. This was significant as we neared the deadline.
Email marketing. If you have an email database, plan to share news, blog posts, and similar content to the Kickstarter updates.
Blogger and media relations. This was not a big mover for us maybe because I suck, or maybe because the blogosphere is tired of reading about your Kickstarter campaign. We got some small niche mentions but according to analytics, it didn't contribute to any results.
Your own networks. Build a spreadsheet of every single person you know. Put it into tiers if it makes sense and send out requests. Let them know what you're up to and ask if them if they would share it. Some of your more influential friends might be willing to blog or write about it. Break it into categories and work it. A small percentage will help and most won't. It's that small percentage that matters. To the rest, NAMASTE. (I encourage you to click on that link.)
I could go on, but I'd love to hear from you with your questions and/or your additions to this list. Have you worked on a Kickstarter Campaign? What are your biggest lessons?
---
Download From Transactional to Transformational: Elevate your organization's positioning with effective storytelling.
[ssba]