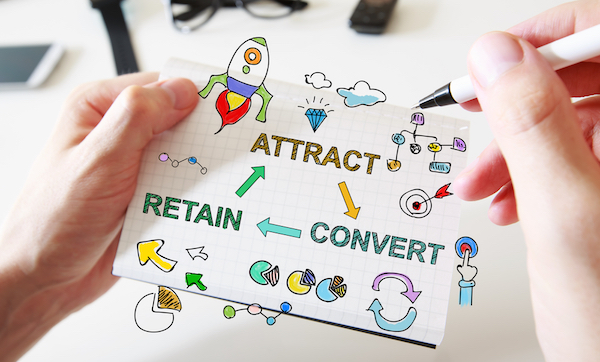 I have been having technical difficulty with analytics for a client. By way of a Google search, I learned about self-referral issues and that one of the causes is incorrect cross domain tracking. (Stick with me, you don't have to know what any of this is; I didn't.) The article, authored by an analytics firm,  outlined step by step solutions based on a few scenarios. At one point, it required a piece of code I'd need and asked for an email address to send me the code. I didn't mind – this was extremely valuable information so I was happy to provide an email address. I received the code and continued the work.
A few days later, I received an email from the analytics firm with the subject line: Did you get your cross-referral issue resolved? I had not, so the email was a welcome sight in my inbox. I opened it and I clicked through and requested a quote for someone to help me with it. It is highly likely we will hire this firm to help us resolve the issue.
This is inbound marketing epitomized. Let's dissect the situation.
These guys demonstrated a clear understanding of one of the many problems/challenges facing their customer base. They create helpful content around each of these problems to attract traffic and then convert them to a lead by giving value. I didn't mind giving my closely held email if they are going to continue to help me. But they didn't leave it at that. They had a nice automated workflow customized to my precise problem, which they know, because they know where I gave them an email address. With this information, I received a a relevant and targeted message.
Is it new? is it a fad?
It happens all around us and it's nothing new. It's why your local bike shop offers bike maintenance classes, the cake decorating supply shop offers cake decorating classes. It's why Airbnb offers neighborhood guides to major cities. They solve problems, are generally helpful and create a relationships that makes prospects want to do business with them.
Show respect for buyers' time and intelligence, learn about them, and specifically, delve into their decision-making process in the context of the path to purchase. This knowledge can then be used to create content that appears when and where they are looking.
Whether you are a cake decorating supply shop, an Analytics firm, a hotel, or a healthcare technology platform, it doesn't matter. It works.
Map out content by asking these questions
Top of the funnel is your "see" bucket. You're just trying to get eyeballs. Your people are searching based on a problem; not a solution. They don't know you exist. They are looking for "self-referrals in Google Analytics" rather than the solution which is "resolving cross domain tracking." They are looking for a romantic getaway in the Northwest rather than "hotel in Leavenworth, Washington."
Ask yourself: What are the many problems and questions our prospect who have never heard of us have?
Middle funnel content is targeted at the solution. They've gotten closer to you and are narrowing in. So they are now looking for "resolve cross domain tracking" or "lodging Jackson Hole."
Ask yourself: What are the many solutions we provide and tag on your geographic area if appropriate.
The bottom of the sales funnel is where your people are ready to make a deal. They might be cross referencing reviews, or asking their social networks. They are searching for pricing, support and very product specific information. Now you can really talk about yourself.
Ask yourself: What do they want to know before they make a final decision? Is our pricing up to date? Do they have a way to contact us? Can they buy online? How do we show up in reviews?
Talk to your best customers to get this information and you'll find it will give you many ideas.
I don't call it inbound marketing. I just call it marketing because it makes sense in today's world. The television is and always was a television. Some of you might remember when it was it's own piece of furniture and now it's a flat screen hanging on your wall. Back then you had to get up and walk across the room to change the channel which wasn't a big deal because there were only three channels. Now we have 500 useless channels and on-demand, streaming content – a very different experience from 40 years ago. But it's still a television.
It stands to reason, the most effective marketing is to appear in the research path of your prospect at the right time with the content they are seeking. Instead of annoying people, we have respect for their time and intelligence. So, no. The answer is, inbound marketing is not a fad. We can agree or disagree to call it whatever it is.
[ssba]