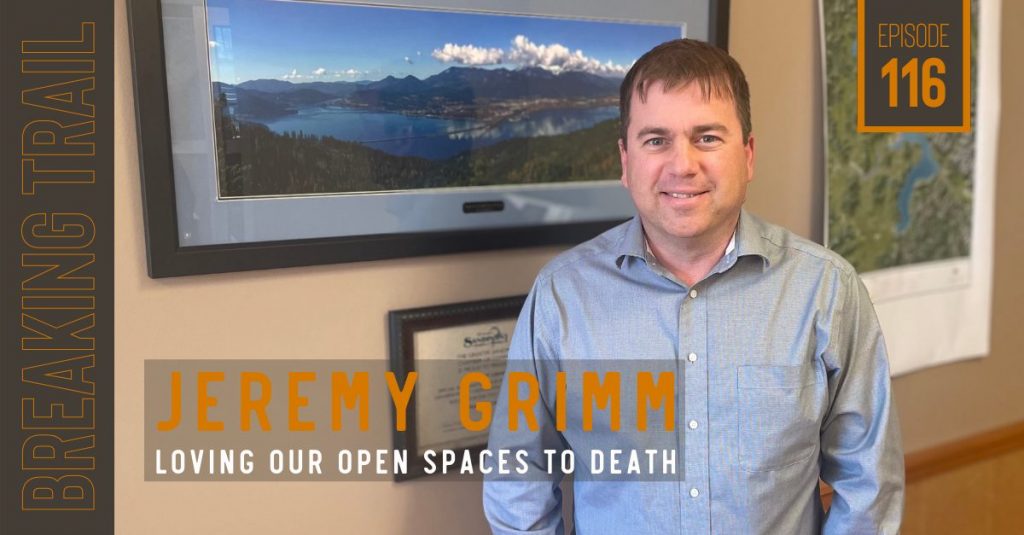 I asked Jeremy Grimm to join the conversation about conservation because he has a great deal of experience from the public and private side, leading planning and development initiatives in small towns across the Intermountain West. For nearly a decade, he served as the planning and community development director for the City of Sandpoint, where he worked to spur economic development and job growth by securing public grants and working on capital improvement programs.
Throughout his career, Jeremy has held appointed positions on the Sandpoint Urban Renewal Board, Panhandle Area Council, Wyoming Water Association, Big Horn Mountain Coalition (EDD), Governor Butch Otter's 2017 Workforce Development Taskforce, and currently serves on the Idaho Economic Advisory Council as Region 1 representative.
Since 2007, Jeremy has raised his two children in Sandpoint, Idaho with his wife, Nichole, an independent Family Nurse Practitioner.
Now – Jeremy owns Whiskey Rock Planning, a land-use planning and economic development consulting firm specializing in place-based economic development strategies, comprehensive and strategic planning, site permitting, entitlements, and code compliance. He works with municipalities, highway districts, and both commercial and residential developers.
The Great Paradox of the West is everyone wants their piece of the American Dream – four walls and four lot lines. In the desire for our own space, we eat up the open space and destroy the very landscapes we have come here to love.
So what can a person do? We talked about possible solutions, organizations working on our behalf to make these solutions possible, and the mindset required to achieve this shift.
With that, I hope you'll listen in and gear up for what's next:
OR
Where to find Jeremy and other links:
Want to do me a huge favor?
Reviewing and sharing are the most helpful ways to get this in front of new listeners.
Make sure and get the next episode in your inbox – subscribe right up there, top right of this page.
If you enjoyed this podcast, I would LOVE it if you reviewed it here on iTunes! It makes a big difference!
I really want to hear from you – questions, topic and guest suggestions, anything. Talk to me in the comments below or here.
---
Stay in touch.
Sign up for our newsletter / podcast to get emails of great stories like this.
[ssba]