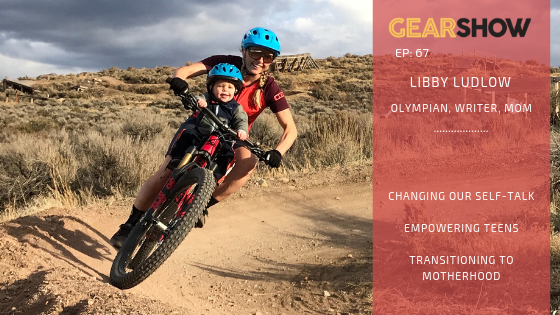 A former professional ski racer and Olympian realized her destructive self talk was practically ruining her life. If we stop clinging to things that are not permanent, learn to take control of our thoughts and adapt to change, it's pretty amazing how much happier we can be.
Libby Ludlow retired from the U.S. Ski team 10 years ago. She was in the 2006 Olympics, is the 2004 U.S. giant slalom champion, raced around the world with 45 top-30 World Cup results, three of which were finishes within the top 10. Libby was a member of the 2007 and 2003 World Championships teams. At the 2007 Alpine World Championships in Sweden, she finished ninth in super G and was ranked 10th in the world in the discipline heading into the 2007 season.
As a professional racer, Libby was hard on herself. Harder than she should be.
After earning her degree at Dartmouth in philosophy modified with Eastern religion, she learned about the impermanence of things and that understanding was key to unlocking potential and opportunity. Her experiences eventually led to her co-founding ZGirls, a non-profit organization that empowers teenagers to change their own self-talk and boost their self-confidence.
She eventually carries these principles forward to her own child and we talk about how she worked very hard to maintain her identity as she transitioned to motherhood. We had some real talk about becoming a mom – not the kinds of unicorns and rainbows you see on Instagram. If you are considering having children (or have young babies) and you love the outdoor active lifestyle, you'll want to hear this. Too often, you don't get the real picture and we think it's important you do.
Today, she is a full-time paralegal for Backcountry.com and is also a mom and soon to be author of a children's book called A-B-SKIS.
Like so many guests on this show, she had a roundabout way of getting to where she is today and each one of those experiences has informed who she is now in a fascinating way. Hope you love this conversation as much as I do and with that, let's listen in and gear up for what's next.
Where to find Libby:
How to Listen to Podcasts
There are a number of ways to access this (and other podcasts). You can listen directly from this page by clicking that orange play button above or the download link.
If you are on an iPhone, go to iTunes and subscribe. It will be added to your Apple Podcasts app which comes by default on your iPhone. Once you do that, you can browse around and add others to your podcasts:
On your Android phone, listen to it on Google Play, preinstalled on your phone:
Stitcher is another great app for listening to podcasts. Clicking below goes direct to The Gear Show but install the app and browse around for others: Lastly, I wanted to share with you a new app for finding and listening to podcasts – it's called Radio Public. You can easily import your podcast list from your current app, explore new ones from curated lists, create your own playlist and share playlists with others. Find The Gear Show on Radio Public.
Want to do me a huge favor?
Reviewing and sharing are the most helpful ways to get this in front of new listeners.
Make sure and get the next episode in your inbox – subscribe right up there, top right of this page.
If you enjoyed this podcast, I would LOVE it if you reviewed it here on iTunes! It makes a big difference!
I really want to hear from you – questions, topic and guest suggestions, anything. Talk to me in the comments below or here.
See you next week!
[ssba]