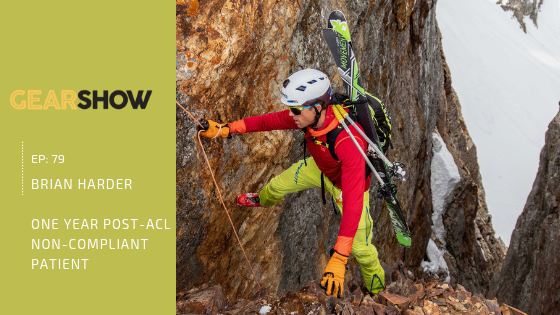 Today, Brian Harder, a self-proclaimed non-compliant patient will walk us through ACL recovery one year after the "event." We'll talk about the choices he made – like the graft choice and what he would do if he had it to do over again. 
Brian is a frequent guest and a good friend of mine. He is an orthopedic physician assistant and a ski mountaineer based in Anchorage. He is also a former Exum Mountain Guide based out of Jackson. 
Brian's ultimate goal is to get back out playing as soon as possible. For reference, he is in his late 50s and sometimes our brains are more eager than our bodies but that's my own observation. wink wink wink. This approach may or may not have caused some of the complications he's experiencing. We discuss that.
His medical background combined with the mountaineer lifestyle gives us all a good perspective and much to reflect upon as we decide what works for us in our own health situations. We also cover a topic that is important to me: How to properly inform ourselves to make the best health care decisions – not just related to ACL injury. We can all relate to that in one way or another, I'm sure.
Previous Brian Harder episodes:
With that, let's listen in and gear up for what's next.
Where to find Brian:
Resources mentioned:
Want to do me a huge favor?
Reviewing and sharing are the most helpful ways to get this in front of new listeners.