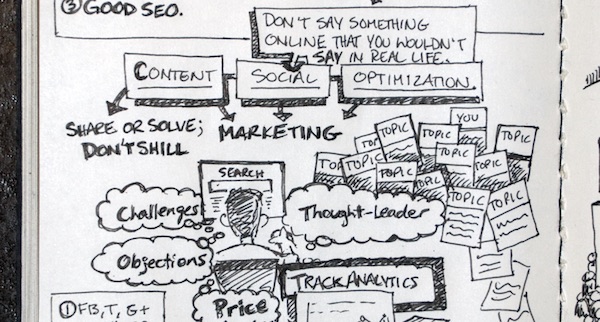 Recently, while researching how to choose stocks, I came across a helpful article on Motley Fool specifically on selecting stocks for my Roth IRA. Within the article was a reference and a link to Warren Buffet and his system for choosing stocks. Obviously intrigued by his due diligence process, I clicked through to be "rewarded" by an audio file of a guy explaining how Buffet's system has worked and brought him tremendous success. (Well, obviously) and the guy went on and on, getting us psyched up to learn about his system without actually telling us anything.
There's a bit of a tipping point when you've waited for something, and you've invested time in waiting that you're worried about throwing it away, so you keep waiting because certainly the anticipated moment will arrive the second you stop waiting. So I gave that audio file more time than I should have, I admit with shame.
They were trying to sell me something. The ironic part is they failed even at that since it took so long to get to the point. I don't know much about Motley Fool – I've read their content in the past, and they seem legitimate. An innocuous anchor text link in the middle of an article – not a flashing sunburst begging me to click for a quick way to get rich – seemed worthwhile of my time.
I left with a bad feeling, and a diminished perception of Motley Fool. They didn't live up to a promise – one of integrity.
Those who are stingy with their knowledge and expertise will miss opportunities because those who are more focused on delivering value will win every time.
Within just a few minutes of interaction with one brand, I left feeling like I'd been suckered. Like they wasted my time. They didn't take the moment to build a rapport with me and honestly, they insulted my intelligence. Is that how you want your audience to feel?
Instead, showcasing your stuff makes people feel like they want to do business with you.
Concerned someone will just take your knowledge and run with it? A percentage will. Possibly a large percentage. But they weren't your customer anyway. Your buyer doesn't have the time to do what you do. They do, however, want to be informed and get a peek into your brand and what you do – All before they make a decision to do business with you.
Now, I'm not saying you give it all away. There is a thoughtful process that has to take place between that which is widely available or gated behind an opt-in or password. Alan Weiss, calls it the "Accelerant Curve." As you decrease barrier to entry (in doing business with you), you increase the "fee and intimacy."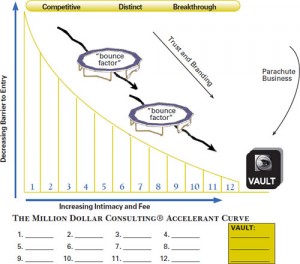 Thought leadership is not proprietary.
This is Tom Garrity's (The Garrity Group) argument in a recent discussion on strategy for a membership organization we work with. To attract members, we need to put our thought leadership out there. But to provide value to existing members, there needs to be a boundary.
Where does it lie?
There is no right or wrong, but a thoughtful conversation needs to take place around the goal and desired outcome with the audience. Don't overlook the value you want to deliver to your prospects vs. your buyers.
The Motley Fool case felt shady and misleading. Maybe it works well for that brand but will it work for yours? I'd argue no. Instead of holding back on expertise, you put it out there, initiate valuable dialogue and build mutual trust and respect. Side effect? You create a desire to do business with you.
Agree? Disagree? I'm interested to hear your perspective.

---
Interested in elevating your organization's positioning with effective storytelling?
Download this ebook: From Transactional to Transformational
[ssba]