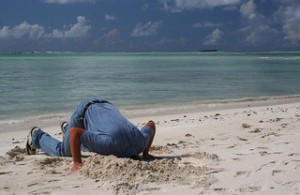 Negative reviews are not fun. It doesn't matter if you're the employee or the business owner, we tend to take these things personally. And get emotional. And those are two things that need to be eliminated before any reaction or response occurs.
Sometimes you might have deserved it – something slipped through the cracks and you have an unhappy customer. Other times, you didn't deserve it. Someone might have it out for you or they were just downright unfair.
Because of the risk of this kind of behavior, many businesses I work with or talk to object to building an online presence. By now, most of us should know, we can't put our head in the sand. The conversation is going to happen whether you are there or not. So you best be present so you can appropriately protect your reputation.
How To Respond To Negative Reviews
Monitor your presence
First thing's first: To be able to respond, you have to be aware, which means you should be watching for, and being notified any time someone reviews you.
Be sure you've claimed your pages on the sites appropriate to your business model. This will mean at a minimum, Google Places and Yelp. What other sites are your customers using to talk about you? Do a search for your business type (not business name) plus geographic location and see what sites show up on the first page. Those would be your target. (Urbanspoon, TripAdvisor, Viewpoints come to mind.)
Also, set up Talkwalker Alerts. Now you'll get an email when anyone is talking about you specifically online.
Someone's dropped an online bomb. You are bummed. Or even, you're furious.
First let's talk strategy. You may or may not be able to turn the person who wrote that nasty review. Ideally, you will, but also remember we're not just worried about the customer in question, but the people who will pass by and read  the review. Give passersby the benefit of the doubt: Often, we are able to see a generally unhappy and angry person. We don't need to be told this. We might just laugh it off. This will determine your approach.
The second piece of your strategy is to put this to rest quickly. We don't want to engage in a public conversation, nor do we want this to get shared and spread. Acting in any way that will aggravate the situation is a mistake. For example, if the person wrote a long-winded saga with every detail, don't feel the need to honor it with a detailed point by point response. We want to remain calm, and put this baby to sleep fast.
Also, if you are able to, get a feel for the person who has commented and look at their following.
One more thing before we actually respond; remove emotion from the picture.
Respond to Negative Reviews
Show empathy.
Show you understand how disappointing or upsetting the situation must have been. Most people just want to be heard.
Apologize if you owe them an apology.
Here is a fantastic example of an apology from a news station that falsely reported the names of the airplane crew on the Asiana crash landing in San Francisco. They strive for <insert expectations here> and that did not happen today. We are sorry for that.
But sometimes you aren't wrong! So don't apologize. 
This is when it gets very frustrating. The customer might have been wrong but they are blaming you. It never helps to point a finger back at the angry individual. This will only serve to fan the flames and that's the last thing you want. Mostly, you want other viewers to recognize that this person is unreasonable and not to take this review too seriously. Follow steps 1 and 2. Apologize not for making a mistake but for the fact that they didn't have a good experience. Re-state your expectations, and what happens when they aren't met mutually. Speak in a factual way and stay professional.
Thank the commenter. If appropriate.
Getting constructive feedback is good. It helps you make your business better. Thank the reviewer for taking the time to comment and allow you to address the situation.
Know when to stop engaging.
Some people just love to complain. A troll is someone whose only mission on the Internet is to throw mud, complain, leave negative comments, and generally cause chaos for you in your social media space. Don't fall prey to this.
Do not continue to engage with this person. Say your piece, and move on. Hopefully, others in your community will come to your defense. If you ignore the trolls, they will eventually go away. Because it's no fun being a troll when you aren't getting any reaction.
The Lesson
Whatever you do, never respond in anger or with emotion. Your goal is to put this issue to rest quickly with as little attention as possible. When you respond in anger, it only blows the situation up like these owners of this bakery did.
Address the situation head on. Empathize, listen and thank. If you're doing everything else right like building a community based on values you all strongly believe in, your community will come to your defense.
Don't fear the bad guys. A client said to me the other day, "If you stop and kick every barking dog, you'll never get anywhere." (by the way, I'd never kick a dog but I thought the expression worked.) You can't be everything to everyone and if they don't like you? Let them stroll on by to the next X. Y, or Z company. They just aren't the customer for you.


Thanks to Tropical.Pete for the image from Flickr, creative commons.
[ssba]