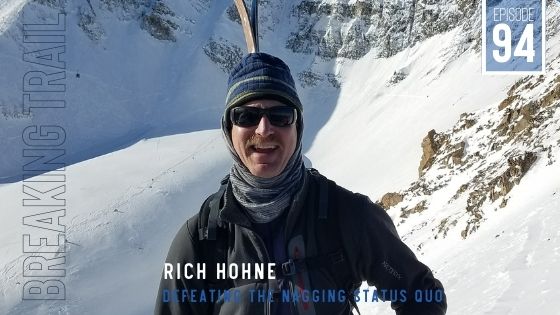 There is a ski area in Japan called Asahidake that is essentially a summer tram they open for winter to allow for tram-served backcountry skiing. It's not patrolled or groomed (although there are two groomed roads that serve as sort of a thoroughfare to the bottom). 
We couldn't wait to check it out. pass this up.
On our first tram ride to the top and exited onto a stunning mountainside. Looking above, you could see the volcano. Below and to the sides many options but hard to tell where one would end up. Skiers immediately clicked in and dispersed, some climbing higher and others descending. We hung out for a moment discussing our options since we were completely unfamiliar with the terrain. 
For our first descent, we made the conservative decision to follow the majority of ski tracks down and we enjoyed a good run but it wasn't anything mind-blowing.
We knew we would need to venture out. We just needed to get our bearings.
Next run, we saw a tiny ski track heading off to something inviting. We took it. It dead-ended. So we backtracked. Third run, we saw an opening in the trees that looked like it might drop off into something worth exploring so we headed off the ski track altogether and enjoyed a dozen memorable, breathtaking turns in hip-deep fluffy powder before we bottomed out at a river and put our skins on to climb back up. Exhilarated and ready for more.
We spend a lot of time studying people we admire and trying to follow their path. That makes sense when you are first starting out but at some point, you have to venture off the track and break your own trail.
Success isn't replicable. We each find on our own path and it can be hit or miss along the way. There are no guarantees. No signs telling you to go "this way." And if there were, everyone would be going there and it wouldn't be mind-blowing. Sometimes we have to backtrack with lessons learned.
We find our reward when we pursue the narrow opening in the trees and break our own trail to find the goodness we've been working so hard for!
In honor of each of us who struggles with that restlessness: The restlessness to make a change for the better, I am excited to finally relaunch my podcast, formerly the Gear Show, as Breaking Trail and bring to you stories of individuals saving the planet, working for change, creating our own definition of success and breaking trail to get there. I hope it inspires you to do the same. But not in the same way. <wink> 
I can't wait to hear what you think and you have a guest idea, I'm all ears.
Defeating the Status Quo
Today, on Breaking Trail, Rich Hohne director of marketing at Oboz Footwear based in Bozeman, joins me today – to talk about unexpected changes, being side blinded by divorce and moving on from it. Finding lack of joy at work and moving on from it. It's easier to just stay with the status quo, isn't it? But at what cost?
So with that, let's listen in and gear up for what's next.
OR
Where to find Rich and other links:
Want to do me a huge favor?
Reviewing and sharing are the most helpful ways to get this in front of new listeners.
Make sure and get the next episode in your inbox – subscribe right up there, top right of this page.
If you enjoyed this podcast, I would LOVE it if you reviewed it here on iTunes! It makes a big difference!
I really want to hear from you – questions, topic and guest suggestions, anything. Talk to me in the comments below or here.
---
Stay in touch.
Sign up for our newsletter / podcast to get emails of great stories like this.
[ssba]