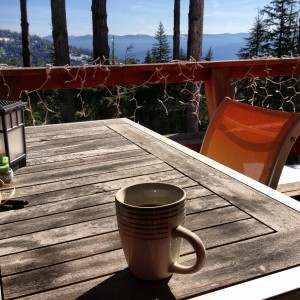 Ahhhh! I did a video.
I did it because I started to write this blog post and realized I can't possibly write a blog post about how easy it is to do your own video and not actually do a video.
Also, today is the second day this year I was able to sit out on the deck and enjoy my coffee. So here it is from the deck (a play on Ken Mueller's front porch).
I hate watching myself but I wanted to do this in one take to prove it's not a major undertaking. This project took me two hours today but I know I can cut it down by a lot in the future because I have the template in place.
Typically, we work with professional video producers to do high end video for our clients. These tend to involve a great deal of editing, and a lot of production. But it doesn't have to be this way.
If you are a small business or a solo-preneur with a small budget, do not be intimidated by video. It doesn't have to be expensive. It doesn't have to be professionally produced. And it doesn't have to take you all day. Well, the first few times might take some time, but you'll get the process in no time. But most of all, it does not have to be flawless. (As is the case with mine – flawful.)
Video is an ideal way to improve your conversion rates. Your middle of the funnel leads – the ones who are considering buying from you but still have some questions – can be turned into buyers. Rather than talk to a sales person, which most of us hate now, they can see what you have to say in a quick three to five minute video.
Use Video to Improve Conversion Rates
What does matter is to get your point across. Deliver the right message, in a real way. Answer the following questions with your video:
What problem do you solve?
How do you solve it?
For whom, exactly, does it work best?
To create this video, I used my MacBook Air built in web-cam and iMovie. You could easily use an iPhone video camera or the video camera you bought at your local shop. That's it.
I spent a few hours one weekend watching the seven tutorials in the iMovie help section and I have enough knowledge to create this video. So take four minutes, if you will, and join me for coffee on the deck:
Video for middle of the funnel from Lisa Gerber on Vimeo.
If you are interested in seeing the entire Flylow Gear video, here it is. I had the wonderful pleasure to tour Flylow founder Dan Abrams and his now wife Megan around Schweitzer Mountain many years ago. He gave me a pair of Flylow pants that day and I love them. I still wear them.
I bought a pair of the pants for my husband for Christmas. The video sealed the deal because it allowed me to see if they were the right pant for his type of activity. I didn't have to talk to a single sales person. I bought the pants online, got them on time for Christmas and we are very satisfied customers.
Also, Flylow is on Big Leap Creative's dream client list. (In case they are watching. Or is that passive aggressive?)
Flylow 2012-'13 Softshell Line from Flylow Gear on Vimeo.
How can you work video into your content strategy? Let's discuss – I'd love to help you out.
[ssba]