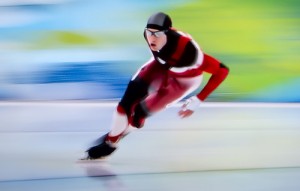 When a reputation crisis surfaces, all eyes are on the alleged "offending party" to see how they will respond or react. It's often not the actual event that can be the do or die for the brand, but their response the situation.
The U.S. Olympic speedskating team voted to change speedsuits from the special ones made by their sponsor, Under Armour, and I have such a crush on their response to the situation, I might just marry it.
Under Armour, if you didn't know, spent a great deal of time and money developing (with aerospace enterprise Lockheed Martin) a high tech suit to give the racers an even greater edge. They were tested in wind tunnels because races come down to hundredths of a second. The team was expected to do well.
Shani Davis was expected to win gold and came in 8th. No one medaled. And they pointed fingers at the suit for their poor performance. You can learn more here.
As a communications professional, I commiserated – what a nightmare. And I watched eagerly to see Under Armour's response.
First, They Didn't Say Anything
Under Armour stood behind the suits, the research that went into them, and the technology.
I am sure this was hard as hell. Standing by while the media (and the team) blamed Under Armour for the team's lack of medals. But what is to be gained by responding and what would they say? It's not the suit's fault; it's the athletes? Anything Under Armour could say would come across as defensive and unpatriotic. It's better to say nothing, and set about solving the issue, than to deflect blame.
So the team went back to their old, trusted suits and what happened? Nothing. The teams performance did not improve.
Then, They Did Something
CEO Kevin Plank not only renewed their contract with the U.S. Speedskating team, they doubled their commitment. I'm a big fan of  show, don't tell and this action speaks louder than any words. Under Armour did the tough thing of keeping tight-lipped when they were under fire.
They stood behind their product and let it speak for itself. They respected (outwardly) the team's decision to revert back to the old suits. I say outwardly, because I can't imagine how difficult it was for those personally involved on the Under Armour side not to take it personally and react defensively. It's natural.
When asked if he felt vindicated the team didn't fare any better when they switched suits, Plank emphatically said,
"No. We remain patriots first. As I sat there watching the events on TV and my laptop, I'm wearing red, white and blue and an American flag."
The sponsorship announcement hit the press last Friday on February 21, and their stock price rose 4 percent (as of today they are up by 2 1/2 percent).
CNBC's Scott Wapner calls Plank out on the fact the timing "seems peculiar." I thought – Well sure! It's a marketing move! The whole deal is a marketing move, and timing is everything in marketing and business. I give them huge credit. Plank's response:
We don't want the story going any longer… we want to make sure our message is there that this isn't just a one and done…there is speculation out there about how we are going to react to it. We will stand up and we will come back."
Under Armour got raked over the coals, the wind-stopping, very un-aerodynamic coals of media and public derision.They kept quiet leaving room for others to speak for them like this:
"It could also be," said Michel Mulder, who led a Dutch sweep of the medals in the men's 500, "that they were just outclassed here."
– From this CBS article
Although I'm sure thoughts like that were rolling around inside heads internally at Under Armour, it would be brand suicide to say it out loud. But if a competitor wants to, far be it for anyone to keep him from speaking his mind!
Speedsuit-gate
This concludes my love story with Under Armour's reaction to speedskatesuit-gate. They let their actions do the talking for them. They walked head on into the problem rather than stick their heads in the sand, and they came out on top, and like-able. And that should be your goal in any crisis situation.
If you need help creating more effective content, I am now happy to offer a personal workshop tailored to your organization's needs: 


Photo Credit: Fotophilius via Compfight cc
---
Interested in elevating your organization's positioning with effective storytelling?
Download this ebook: From Transactional to Transformational
[ssba]