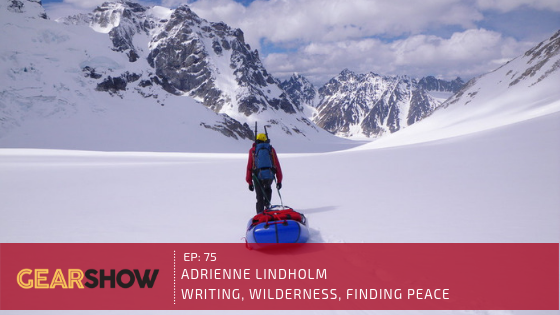 The long-term impact of seemingly small interactions. 
Adrienne Lindholm took a life-altering trip at the age of 11 – a cross-country camping trip that expanded this Pennsylvania girl's awareness of what is possible in this life. Now, she lives in Alaska with her husband and two kids is an author and land conservationist. 
She has worked for the National Park Service as a backcountry ranger, park planner, compliance officer, and natural resource manager. She now oversees the Wilderness Stewardship Program for the national parks in Alaska.
Twenty years ago, she published several instructional books about backpacking as well as a memoir of her 2,100-mile hike of the Appalachian Trail. More recently, her stories and essays have appeared in a variety of journals and magazines. She recently released her new book It Happened Like This; A Life in Alaska, a beautifully written memoir. I highly recommend but after you listen to our conversation, I know you'll want to read it too.
In today's episode, Adrienne and I talk about writing as therapy, her evolving relationship with the wilderness over the decades, and how we tie our self worth to our performance in the outdoors.
You're going to enjoy this one.
With that, let's listen in and gear up for what's next.
Where to find Adrienne (and her books):
How to Listen to Podcasts
There are a number of ways to access this (and other podcasts). You can listen directly from this page by clicking that orange play button above or the download link.
If you are on an iPhone, go to iTunes and subscribe. The Gear Show will add to your Apple Podcasts app which comes by default on your iPhone. Once you do that, you can browse around and add others to your podcasts:
On your Android phone, listen to it on Google Play, preinstalled on your phone:
Stitcher is another great app for listening to podcasts. Clicking below goes direct to The Gear Show but install the app and browse around for others:
Want to do me a huge favor?
Reviewing and sharing are the most helpful ways to get this in front of new listeners.
Make sure and get the next episode in your inbox – subscribe right up there, top right of this page.
If you enjoyed this podcast, I would LOVE it if you reviewed it here on iTunes! It makes a big difference!
I really want to hear from you – questions, topic and guest suggestions, anything. Talk to me in the comments below or here.
See you next week!
[ssba]