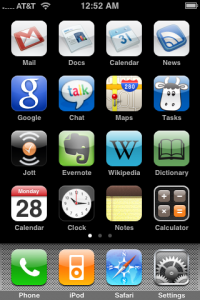 This may or may not be a blatant attempt to see your apps by showing mine.
But also, you've asked me, so I thought I'd share.
I work with clients all over the country; some of whom I've never met in person. Because of that, I can conduct business anywhere thanks to the cloud and some of these apps. There are way more than listed here, but I chose a few of my must-haves.
Apps for Productivity
1. Concentrate: My new favorite app eliminates distractions and notifications with one click so you can complete tasks you perform frequently. So, when I am working on a client proposal, or write a blog post, or dig into client work, I have workflows set up that shut down email, block social networks, and open specific apps so I can begin working. It times you so you can set aside, say, one hour to get this done. and move on. Super easy to set up. (It says it's $29 to buy but click on that button and it gives you a free code until they update the app.) Thanks to Dave Yankowiak for turning me on to this!
Awesome screenshot and annotate: This is a Chrome extension that allows you to easily take a screenshot then add circles and text. It works really well for illustrated blog posts or when I'm showing a client how to do something.
Evernote: Helps me sort all the tasks and projects in my life. At first, I didn't know how to set up Evernote until I watched the videos on The Secret Weapon that helped me structure the tags and notebooks so I could use it effectively.
Apps for Business
Apps for Content Sharing
Apps for Content Consumption
Apps for Content Creation
I keep things pretty simple when I'm creating content. Blog posts I write directly in WordPress on my Macbook Air. I know. So old-fashioned. When I have topic ideas, I either start a draft in WordPress or throw the idea in my Evernote and tag it with blog ideas.
App for Travel
Apps for Fitness
I take my exercise seriously. I do some of my best creative problem solving while trail running, Nordic skate skiing, mountain biking – but never in yoga. I like to keep track of everything so I can improve.
I'm going to stop now. I'm at 1100 words. I've left a bunch out including the apps I use for fun. I'll leave you with one last thought. If you enjoy geeking out on time management and productivity, no one geeks out more than Mikes on Mics – the podcast. Check 'em out. They have fun and interview very busy and successful people to find out how they get things done.
PS. Sometimes I find nothing works as well as good old Moleskine notebook and your favorite pen.
Now? Show me your apps:
[ssba]