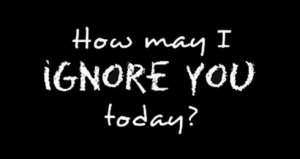 I'm training for the Cutthroat Classic and it's 32 days away according to my beloved Runkeeper App. This past weekend, my program had me slated to do 10 miles. Coincidentally, there was a 10-mile race happening up here at my home, on the trails I run three times a week.
But I decided not to do the race.
The 10 am start time worried me. I don't do well in the heat, and I'd rather be done by 10 am than just starting out. Then, I heard through the grapevine the start time was to give out of town competitors time to arrive which seemed odd since I have to get my butt to all sorts of places at ungodly hours in order to make race start times. That's just part of the deal.
At that moment, previously forgotten micro-interactions with the race from the previous year resurfaced. Things like: They ran out of shirts last year and promised to send me one later. After four weeks, I hadn't heard anything so I emailed them. I received a brief, response: "They are coming. I just put them in the mail yesterday." No "thanks so much for being a part," or even a proactive – "sorry the shirts are taking so long" communication. I never received an email telling me about this year's race. In fact, I never even heard about it without seeking out the dates on my own.
All that little stuff didn't really matter to me. I blew it off. But it takes one straw, and suddenly you have a bail. Yep. Bail as in, "I think I'll skip the race and just do the run on my own." I'm not their target market. They aren't catering to my needs. It's not a big deal.
Seriously, it isn't a big deal. I ran my 10 miles at 8 am and had possibly one of my best runs in the 30 years I've been running. (I've been complaining about intervals on Facebook; it turns out they work.)
It is every organization's prerogative to declare and nurture their own target market. We can't be all things to all people, so we all should all agree to disagree and no hard feelings.
Only, as I thought it about more, which I tend to do to everything, I sort of felt like maybe I was overlooked as a target market.
I'm writing about this not to rant, but to make sure you are making your customers feel like a part of something. We're sensitive now! We get really ticked off if you so much as tweet something stupid. We expect to be able to connect with you but we're waiting for you to make the first move.
You might be a business owner or a marketer or both. While you're focused on ROI of content and social media, bottom lines, and protocols, there is a good chance you are looking the other way both literally and figuratively when your customer is standing right there in front of you.
Southwest Airlines sends me a birthday card every year, as well as drink coupons on my anniversary of joining them. The other day, as I walked through our local Farmers' Market, a boy at the flower stand handed me a bunch of sunflowers. "It's Customer Appreciation Day." I wasn't a customer. Yet. But you should have seen the smile on my face being handed a beautiful bunch of flowers.
The guys at my car repair place make me laugh and I wouldn't go anywhere else. They are honest and reliable. And they take it even further with an awesome dog friendly waiting room with WiFi. I was lamenting to the guys how well-behaved and calm another lady's dogs were after she left. Mine are just so… enthusiastic. After I paid my bill and went to the restroom, I left the building to find this on on my windshield.
You don't have to be big. And it doesn't have to cost a lot of money. You don't have to shower people with freebies and discounts.
Simply recognize that without these people, you wouldn't exist. Create a thank you culture in your organization and empower your staff to reach out and connect. Go ahead and make that first move, that makes us, the consumers, feel like we are wanted.
So you, you know, send me an email that says I love you every now and then.
Because we can easily find an alternative. And you'll never even know about it.
---
Download From Transactional to Transformational: Elevate your organization's positioning with effective storytelling.
[ssba]