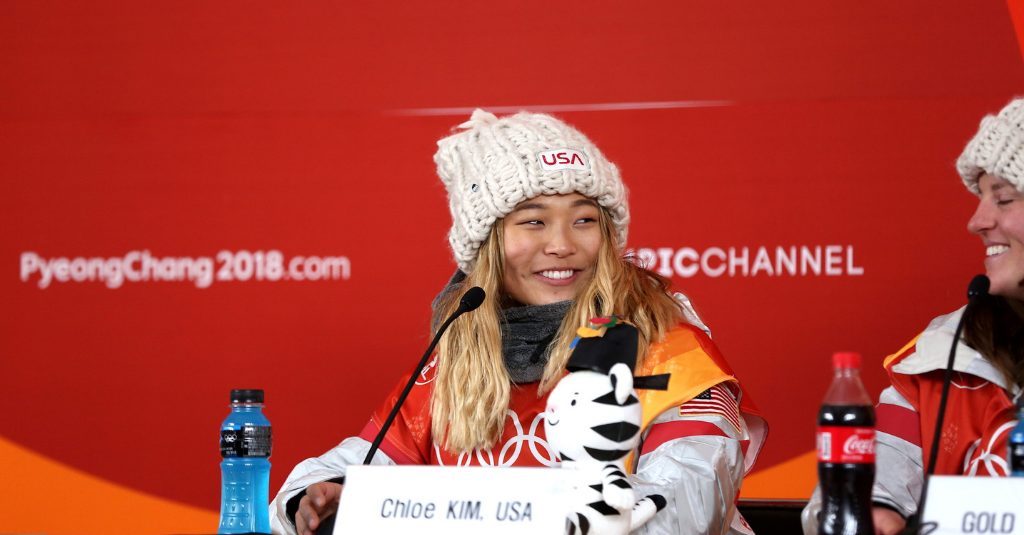 Before this month, I didn't know much about Chloe Kim until I saw her asking for snacks in a press conference shortly after winning a gold medal in the women's snowboard halfpipe.
Imagine winning a gold medal and instantly being whisked away to a press conference to sit at a table bordered with plexiglass walls and face a room of masked individuals all socially distanced while being grilled about her life.
She was so hungry she didn't mind risking a handful of raw almonds with your pocket lint if that's what it takes to give a gold medalist a few calories.
Something else struck me just before her hangry request. A journalist asked if it bothered Chloe to be asked about her personal life outside of snowboarding. I didn't know it at the time, but the journalist was referencing her mental health struggles, the bullying, and the hate she was subjected to after winning her first Olympic medal in 2018 as a 17-year old.
Chloe's response (and I'm paraphrasing): No, I don't mind. When I was at school and heard others' stories, I felt like I could trust them and relate to them when they opened up about what they were dealing with. So I don't mind sharing my experiences for the same reason.
Her openness and patience in this press conference stoked my curiosity, so I decided to learn more about the life of Chloe Kim. This is what makes the Olympics so exciting, isn't it? The stories of the athletes. Who are they, what is their life like, how do they get to this level of performance, and what have they overcome? These are classic hero's journey stories, and if we didn't know these stories, the competitors would be strangers on a racecourse and little else
What better place to learn about great storytelling than in the Olympics? We get to see what makes a character popular and well-loved; what makes a character polarizing. It's Storytelling School 101.
Here is what I learned. Chloe was 17 when she won her first gold medal in the women's snowboard halfpipe in the 2018 Olympics. She took a hiatus from competing afterward due to the pressures and many other things like hate messages she received and so much more. She used that time to attend school at Princeton, and this time away gave her the space she needed to be able to return to competing.
When the journalist asked Chloe if she minded talking about the things in her life outside of snowboarding, she raised a common dilemma each of us as individuals and leaders in our space must come to terms with. Do we want to bear the responsibility that comes with sharing a story that opens us up to being vulnerable and shining a light on the thing we want to shine a light on, or do we want to keep our lives private and do the work we want to do?
For some, the answer is easy. For some.
I place no judgment one way or the other, and there is no wrong or right path, and it depends for each of us. I'm biased by my work and see the impact of sharing your story on others. I see how, in Chloe's words, it puts others "at ease." It builds trust.
The fear or reservations we have about sharing our stories can be filtered through one question. I believe intent matters. And if your intent is correct, your storytelling will be right.
So I'd ask, what is the intent.
Am I leveraging something to get something? Am I yanking on emotional chains to achieve something as an outcome? Or am I sharing this to be of service?
Stories serve a purpose when you want to be relatable and connect, and they work when you break down barriers between you and others. When they don't work is when they are attention-in – "look at me now!"
Your audience won't be able to put a finger on it, but they will know when something doesn't feel right. And it doesn't feel right when it comes from the wrong place. Watch your intent, and I think you'll be OK.
Take care out there,

---
Some ways I may be able to help you and your team:
Need Guidance And Accountability? Take a big leap: I advise purpose-driven individuals who want to make a big change, level up their career, start a new chapter, or launch a thing. I still have a few spaces available in March for my Take a Big Leap Advisory program. Respond here, and we can schedule a time to discuss.
Help Non-Profit Team Members Level Up their Storytelling. In this three-part series, I can work with your team to help you elevate your organization's communications and storytelling skills. Want more details? Respond here to schedule a time to talk.
Digital Transformation. Need to bring your work online? I'm here to help. Contact me for details.
---
Stay in touch.
Sign up for our newsletter / podcast to get emails of great stories like this.
[ssba]