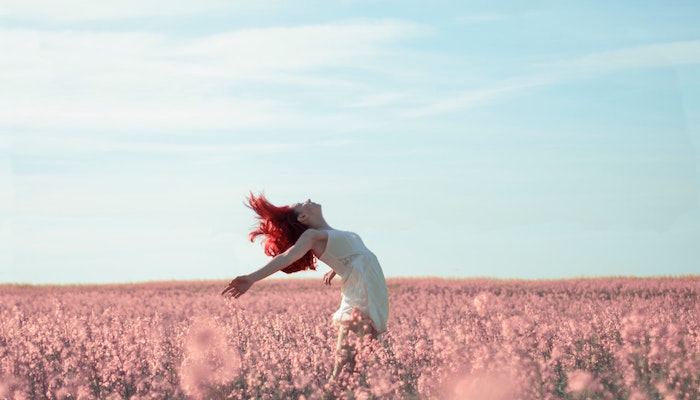 I was beyond relieved when my gynecologic oncologist said, "You likely won't need hormone replacement therapy, because you're so close to natural menopause as it is." That would turn out to be a pivotal moment because I didn't question her. Instead, I blindly accepted her word, mostly because it's what I wanted to hear.
Everything I understood about hormone replacement therapy at the time made me want to avoid it at all costs. I'd heard it increases risk of cancer and has other nasty side effects. A month later I was rethinking it.
I wasn't going to talk about this, and absolutely not here on this blog. My health is very personal. Certainly when it comes to the girl parts, right? We don't want to talk about ovaries or menopause. I later learned Patrick, on a mission to try and fix the problem, as men are wont to do, was secretly watching YouTube videos at work on how to handle menopause in your partner. We are all in this together and we are all looking for answers.
After much deliberation and a bazillion revisions to this post, I decided to talk about it because I Googled like hell when I was going through it and for once, the internet did not deliver.
I hope this helps the next person who may be struggling with women's health issues and/or navigating the health system to finding the right answers.
Small print: I'm not medical professional and I don't have the right answers for you. This is my own personal experience and some of my opinions are exactly that: my opinions and observations.
In March 2019, I had both my ovaries removed due to a growing pelvic mass and an elevated CA-125. CA-125 is a protein in the blood often associated with ovarian cancer. An elevated result is cause for alarm, but, in my research, can also be associated with benign issues. Nevertheless, they referred me to a gynecologic oncologist who suggested we remove them as soon as possible. It caused other issues for me so I felt like let's be safe instead of sorry and all this other stuff will go away too.
Two days after surgery, I was working again. A week later, I was even skiing gentle groomers. Two weeks, and I was told I should be back to 100 percent. But I wasn't. I slept a LOT. My brain kept short-circuiting in meetings at work. It was downright embarrassing and I did my best to cover it up. It all required more energy than I had and I was exhausted. But I was suddenly not sleeping at night.
Hang on, am I still recovering from surgery, I wondered? Out on my typical Tuesday night Nordic skate ski with my friends, I couldn't muster more than a few miles. How long does anesthesia last in the body? Or wait, is this what menopause feels like? I looked up all these things. And I came across the term "surgical menopause." One morning you wake up a normal functioning female, the next morning, you are in menopause, a transition that under normal circumstances, should take years.
Heres' what I found on surgical menopause:
"Women who have undergone surgical menopause may become less interested in sex." (source)
The hot flashes and lack of interest in sex were the least of my worries (even Patrick's, I might add)
Another bullet point: they may experience "emotional effects such as anxiety, depression, and mood swings."
Let me elaborate on this point so conveniently turned into a bullet point and therefore lacking in the weight of the very words it contains.
They might:
Find themselves crying involuntarily at the gym or while checking out at the grocery store.
Wake up repeatedly throughout the night wondering why they can't sleep through the night anymore.
Not be able to wake up in the morning because of the aforementioned lack of sleep the night before.
Proceed throughout their day behind a heavy veil that makes it hard to focus and make decisions and even have normal conversations.
Have no drive or ambition, unable to take any initiative or put forth any effort to do something .
Make silly decisions sometimes referred to as menopause moments, like the afternoon I was dropping off the recycling, and a pick-up truck drove by with the passenger door open and a girl inside yelling "LET ME OUT!" I stood there mouth agape and watched as it pulled behind a building across the way. So naturally, I hopped in my car to go chase it and save the girls calling Patrick so he's on the phone while I swoop in like a superhero. Patrick responds with "you're not doing that. Call 911" like a normal person would do. (By the way, I did. The girls were fine)
I was able to work about half the hours I typically work. I pretended everything was OK by smiling. I don't think I pulled that off well, however. I wanted to cancel my upcoming vacation. I simply lost all desire and excitement for being here. Life had lost its luster.
A friend recommended Suzanne Somers' book Ageless: the naked truth about bioidentical hormones and, coincidentally, my psychologist referred me to a doctor in Missoula who is an expert on bioidenticals. I obsessively studied for several days and called the doctor in Missoula to schedule an appointment.
I'll admit, I was skeptical of accepting medical advice from Chrissy Snow from Three's Company but I filtered through my critical thinking glasses. I sorted through hyperbole vs. facts and interviews she conducted with the doctors. And I learned a lot.
Hormone levels fluctuate through our life cycles from adolescence, to pregnancy and then decline after our childbearing years. Back when humans first started out, our sole purpose was to procreate. These fluctuations have implications for all of us and we all have the ability to do something about it. In my case, when our hormone production declines, symptoms of aging begin to appear – things like weight gain, wrinkles, inability to sleep through the night, depression and a host of other things. The thing is, in surgical menopause, it happens instantaneously.
Conventional doctors (like mine) suggest don't focus on hormone balance and its host of effects. Naturopaths and anti-aging doctors say you don't have to suffer through it and by balancing your hormones using bioidentical hormones (not synthetics), it is highly likely that many of the issues you are dealing with can be resolved. 
Bioidentical vs Synthetic Hormone Replacement Therapy (BHRT)
The term "bioidentical" means the hormones in the product are chemically identical to those your body produces. "Natural" means the hormones in the product come from plant or animal sources; they're not synthesized in a lab. (Source)
Conventional physicians say there is no such thing – the natural ingredients are still "processed." They try really hard not to twist their face in ridicule when I ask them their opinion on bioidentical hormones declaring "there is no science behind bioidentical hormones. They are not FDA-approved."
In my search for truth and a credible source, I came across this report directed at physicans. Titled Biodientical Hormone Therapy, by National Center for Biotechnology Information, in the subsection: Approach to Patient Care, they write:
"We have found that it is important to acknowledge the use of the bioidentical formulations without appearing to be judgmental or dismissive. Many patients are well versed in the topic and have often conducted an exhaustive online investigation before they present with questions." National Center for Biotechnology Information
Ok, then. Patients are not children. We want to be informed and everyone is making it impossible.
Alternative medicine and anti aging doctors say synthetic hormone replacement is dangerous, increases risk of cancer, is made with urine of pregnant mares. I had heard the first two things which is why I didn't even question the doctor when she said I likely wouldn't need hormone replacement. I just said "phew."
So far, the greatest argument I can find against BHRT is:
"No evidence currently suggests that custom CBHT (compound bioidentical hormone therapy) formulations offer clinically relevant benefit over the FDA-approved products available to treat the symptoms of menopause." (Mayo Clinic )
A quick note on compounding pharmacies: these are pharmacies that customize the dose and medication to the practitioner's request. There are concerns about compounding pharmacies which should be taken into consideration.
Still, none of this is enough for me to put foreign substances in my body when there are pharmacies who are replicating hormones using natural ingredients. "No evidence." That's because bioidentical hormones cannot be patented and are therefore not backed by pharmaceutical companies to submit to the FDA for approval. Thus the argument, "no evidence."
… pauses to glance at the phone for that callback for the appointment in Missoula.
In the meantime, I moved through my days inside an invisible bubble that seemed to have dimmed the light ever so slightly, and added a subtle weight to my existence, like moving around with an extra five-pound jacket. Everything took more effort – to move, to speak, to take initiative on anything, to make decisions, to walk up the hill from my parking space to my oncologist's office.
Sleep is another thing altogether and likely the root to many of the issues. I took afternoon naps and turned in for the night at 8:30. I woke up every few hours and tried my best to keep my mind from delving into dark places spinning silly webs, conjuring irrational thoughts such as this is my new permanent state of affairs and soon, I will go out of business because my brain no longer functions as it should. When my alarm actually goes off, I can't fathom waking up.
Nice, huh?
When Night Turned to Day
That phone finally rang, and my appointment was set for early the following week, less than five weeks out from my surgery date.
The doctor patiently listened to my list of symptoms I had written down because I couldn't remember things or connect dots anymore so I had kept track in the days prior to our appointment. She listened and pointed back at my notes – "what else?" as she furiously scribbled on a piece of paper. Then she talked about hormones and what they do. She showed me a diagram and how simple it is that a sudden drop in hormones will cause almost all the things I talked about.
I filled the prescription she wrote me for bioidentical progesterone, testosterone and estrogen at the compounding pharmacy next door. When I asked, they ventured I might feel better as soon as this weekend. I slept that night the same as I had for weeks – like crap. So when I woke up, I did not anticipate that my normal me might have returned; that literally, the difference was like night and day. That heavy curtain had been lifted and I remained cautiously optimistic. Six days later as I type this, I have only improved every day. My energy returned to normal; colors were bright again; I cared about things again; I could run with my friends. My brain was not lost as I so feared in those dark nights. Overnight. That's all it took. One month later and I feel even better than I did before the surgery.
TL;DR
The search for right and wrong within our healthcare system
Some of you already know this or discovered it by your own experience. I'm only just learning it now.
Conventional medicine comprises an eco-system of doctors regulated by a standard of care that protects them in a litigious society such as ours. In this eco-system, pharmaceutical and insurance companies have a great deal of power as well as the money to fund A: studies that back drugs to get them FDA-tested and approved, or B: lawsuits to suppress alternatives.
Alternative solutions (like bioidentical hormones) don't have that kind of financial backing because they are natural ingredients, can't be patented and therefore have no profit margin. Thanks to this, doctors argue that "there is no science to back up their claims" or "they aren't FDA-approved" when we ask our trusted doctors about them.
Hey, guess what? The birth control pill is FDA-approved and look where that's gotten so many women. So who can you trust?
Conventional doctors treat symptoms and in so many cases, that's what we need. It's just that we, as patients, need to ask better questions and advocate for our own health rather than accept their often highly valuable advice blindly. Sometimes the medications prescribed suppress systems that are needed and lead to other issues.
My oncologist did her job which is to prevent or cure me from cancer. I don't have cancer; check that box as "complete." However, when I complained about my menopausal symptoms, she turned to the computer to prescribe to me a synthetic estrogen. What I learned later is synthetic estrogen only includes one of the three forms of estrogen and I needed two of them. She also said I didn't need progesterone because I no longer have a uterus but I later learned progesterone is an important hormone that aids with sleep that leads to a host of other benefits when you're sleeping well. Testosterone will help with energy and libido. Yes, women need testosterone too.
As patients, we are often left confused like the metaphorical donkey between two buckets of water, paralyzed by indecision. Which route is the right answer for us? It always depends on your individual case. There is no right or wrong – we each have to make the decision that makes the most sense for us.
The biggest lesson I learned: hormones are pretty important! They are the basis of our highly functioning systems and they treat more than just menopausal symptoms. Go learn about them. Both men and women – if your hormones are out of balance, they are causing those mysterious things you can't fix about your own bodies.
I welcome your opinions and corrections – and look forward to discussion on the matter.
Want to learn more?
Listen to this: Peter Attia MD podcast: #42 – Avrum Bluming, M.D. and Carol Tavris, Ph.D.: Controversial topic affecting all women—the role of hormone replacement therapy through menopause and beyond—the compelling case for long-term HRT and dispelling the myth that it causes breast cancer (Note – they do not support bioidentical hormones but it's good to hear what they say about it.)
Here is what is on my reading list: