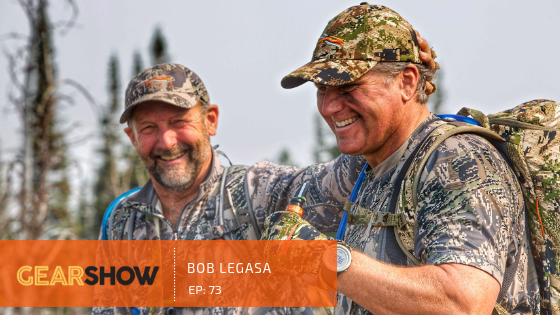 Bob Legasa, owner of Freeride Media, is a TV Host-producer in the snowsports industry, a snowsport event coordinator and a custom home builder and last fall, he was mauled by a grizzly bear on an elk hunting trip in the Gallatin Mountains in Montana. Fortunately, he survived to tell us about it. (By the way, so did the sow grizzly who was protecting her cub.) 
When I opened Facebook that day in October saw Bob's post about the incident, I stopped in my tracks. It's pretty much your worst nightmare becoming reality.
It affected me so much, the following week, while mountain biking, we turned around early because we had a bad spidey sense about things and didn't feel like taking any risks. That was overkill, I'll admit but sometimes it feels nice to play it safe.
I was glad Bob was willing to come on the show and share his experience. He was bow hunting for elk with his good friend Greg Gibson at the time and while most of us might not be out hunting, we're certainly out playing in the wilderness and there are many lessons to be learned from their story. One is bear spray. The other is bring Greg Gibson with you. 🙂
Bob and Greg were fortunate in so many ways, of course. The outcome could have been far worse. So I hope this episode prepares you next time you are out there – not to scare you, but to prepare you.
We'll talk about what exactly happened, the lessons learned, about bear and their habitat, bear spray, and some unexpected consequences. Because Bob is a public figure, his post went viral and it definitely sparked a social media backlash.
So let's listen in and gear up for what's next:
Where to find Bob:
Resources mentioned:
How to Listen to Podcasts
There are a number of ways to access this (and other podcasts). You can listen directly from this page by clicking that orange play button above or the download link.
If you are on an iPhone, go to iTunes and subscribe. It will be added to your Apple Podcasts app which comes by default on your iPhone. Once you do that, you can browse around and add others to your podcasts:
On your Android phone, listen to it on Google Play, preinstalled on your phone:
Stitcher is another great app for listening to podcasts. Clicking below goes direct to The Gear Show but install the app and browse around for others: Lastly, I wanted to share with you a new app for finding and listening to podcasts – it's called Radio Public. You can easily import your podcast list from your current app, explore new ones from curated lists, create your own playlist and share playlists with others. Find The Gear Show on Radio Public.
Want to do me a huge favor?
Reviewing and sharing are the most helpful ways to get this in front of new listeners.
Make sure and get the next episode in your inbox – subscribe right up there, top right of this page.
If you enjoyed this podcast, I would LOVE it if you reviewed it here on iTunes! It makes a big difference!
I really want to hear from you – questions, topic and guest suggestions, anything. Talk to me in the comments below or here.
See you next week!
[ssba]