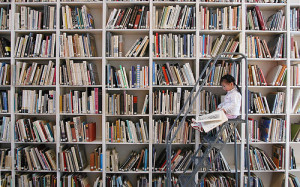 We're going to "fall back" this weekend which means three things: The days are getting darker, and colder, and it's time to read more! Reading real books, made of paper, in front of the fire with a mug of something delicious, and dogs curled at my feet – that's how I get over missing the long days of summer.
For a long time, I denied myself the pleasure of reading wonderful fiction or anything not related to modern marketing and technology, and business leadership. Those days of deprivation are over. What was I thinking? Of course I need to read great stories, and great writing to be a better writer and help clients tell a better story.
With that, I bring you a list of my favorite recent reads and many suggestions from very smart friends below.
1. "Beautiful Ruins"
Beautiful Ruins teaches that stories are not linear. You don't have to start at year 1 and end chronologically.
The story begins in 1960s Italy and bounces back and forth to present day Los Angeles, to World War II, back to the 60s, and to present day Sandpoint, Idaho (that was a cool surprise!). With rich character development, it left me missing the hero and heroine when I was done.
2. "Born Standing Up: A Comic's Life"
Steve Martin's autobiography is beautifully written. Martin tells his story in a spare, matter of fact, sometimes funny, never dramatized fashion. It teaches that great storytelling uses a real voice. It takes work to keep readers engaged with short, active copy, and to be economical with words.
3. "Born To Run"
This national bestselling book started a running revolution; touting the benefits of running without expensive running shoes. Not only that, but it called big shoe brands out for causing more running injuries than they prevent.
Christopher McDougall gives you even more than that to think about in this book. Whether you run or not, the great stories and history here will inspire you to be better at what you do through discipline and practice. The best content shakes the foundation of existing thought.
Beyond helping us with our content, Viktor Frankl's book gives us perspective. It will change the way you react in day-to-day situations.
Frankl is a psychologist. His writing style is academic but the themes are important. He speaks of horrors, and how people did or did not survive them, in a way that doesn't belabor details or sacrifice the story. We can choose how we react to situations. Beyond marketing, this is a life-changing lesson.
Thanks to my wicked smart Facebook friends (journalists, writers, marketers and others) for these added suggestions:
"The Princess Bride": Erin Feldman  suggests because it teaches us to "cut the boring stuff."
"Jefferson Lies": Revisionist misrepresentation of Jefferson proved false. Lesson footnotes from the writer are important if you want the truth to be known as fact. No foot notes and it is just opinion and probably your own personal agenda attached to that opinion to drive some social or political agenda. Reader beware of biographies with no foot notes from the author. Thanks to Richard Werry Murphy for the suggestion.
"Adrift" (76 Days Lost at Sea) by Steven Callahan. Chris Guibert says "You will learn: perseverance."
David Kilmer recommends two "good books with fresh attention from recent movie treatments":
"On the Road": Enthusiasm for an idea or a journey, even at its most manic and incomprehensible, is contagious.
"The Great Gatsby": The world loves a spectacle.
"Story": "For sheer storytelling, Robert McKee, the screenwriting guru, is pretty great. His book is just called Story. … that and other screenwriting books talk me a lot about narrative structure," said my friend Sara Eckel.
Denise Harrison voted for "Charlotte's Web" by E.B. White. 1) Align yourself with great people (There'd be no Wilbur without Fern & Charlotte). 2) Messaging should be meaningful, short and to the point: (Charlotte's words in her web: SOME PIG, TERRIFIC, RADIANT). 3) Great stories live on (first published in 1952).
Geoff Livingston loved Kim Stanley Robinson's "2312″. He said it is a very creative and different approach to storytelling, "But I think it wigged like a quarter of the readers out based on reviews. It also won the Nebula Award."
"A Long Way Gone": A story of a boy solider by Ishmael Beah. Amazing story… Nate Riggs
"About Writing" by Steven King (Mana Ionescu's addition)
"Bird By Bird": This was the most popular selection with Sara Eckel, Alison Boggs, and April Whitney all voting for this one. Alison said it's her "favorite book about writing, ever."
"The Happiness Project" and "Misadventures of a Garden State Yogi": Both are fun, nonfiction books … that were super fun to read. "The Happiness Project" CAN be a bit overbearing in places (I told Alison I had a tough time finishing that one.), but I liked her research and her willingness to admit that she needed to BE HERSELF and not who she thought she should be or who other people expected her to be. Great lesson. (Thanks, Alison Boggs!)
"Still Life With Rice: Michelle Kim loved this novel by Helie Lee. She tells of her grandma's trials and experience of life in prewar Korea and experience with the Korean war-touches on the great divide between KA's (Korean Americans) and those in the older generation.
So next time you're curled up with a good novel, you can let people know "You're busy. You're working."
What would you add to this list?
In fact, if you are in need of jump starting your content development for your organization, I might have just the thing for you. This online content development workshop is for your team, custom-made for your goals and challenges:
[hs_action id="3247″]
Photo Credit: Ozyman via Compfight cc
This is a very modified version of a post I originally wrote for Vocus. 
[ssba]