I became aware of an abandoned mid-century resort in Kauai that, back in its heyday, welcomed the glitterati, and there is a cool lesson about how stories help us become more attached to things, places, brands.

In understanding how humans become attached and loyal to the companies they do business with, we can learn and do the same. Read on for a story within a story about stories. 

We were in Kauai for the second time. Patrick is the one who wanted to return after our first visit two years ago. I was not quite as enamored with the island as he was. I'm not complaining – never complain when your husband says, "Let's go back to Kauai." 

There is something special about visiting a place for the first time. That sense of discovery, much like going on a first date, can't be replicated – even after you've been married for 20 years. First times are fraught with uncertainty, navigating new stuff, and excitement for the potential for the future. 

The second time is also fun because you've learned some lessons from your first visit. You experience more stability and confidence because things are dialed in and you know what to expect. For example, we stayed in a far better location. We knew what restaurants not to return to. We knew we wanted to go back to that one beach but get fish tacos at the truck before we head out there because it closes early, and there's no food out at the beach. In other words, we were ready for a "best of" kind of trip. As we drove through Wailua, we passed this building.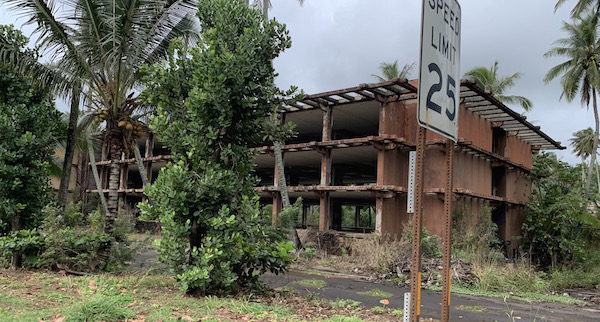 I recalled that was there two years ago. We drove back by it later that day on our way to town in search of lunch. I had the feeling something is up with this place. So I turned to Google. A search for "hotel ruins Wailua" returned my answer instantly. It turns out, The Coco Palms Resort was an iconic mid-century resort owned and operated by Gus and Grace Guslander.

The success of the hotel was attributed to Grace's charming hostess talents. She regaled guests with stories of the history of the grounds and the culture of Hawaii. (Up until 1853, the property was home to the Queen of Kauai.) She created a special day to celebrate the Queen's birthday, who had long since passed.

Other daily events and rituals honored the traditions of the last Hawaiian royal family. She knew all the historical details, so she was able to entertain guests who were interested in the stories. Eventually, celebrities such as Rita Hayworth, Frank Sinatra, and Bing Crosby became regular guests.

Later, the final scene of Blue Hawaii was filmed there as Elvis got married at the Coco Palms resort (sorry, spoiler alert), and, for many years, weddings would be replicated on the property in that fashion. Before it closed, the resort hosted 500 weddings/year!

Hurricane Inniki destroyed it in 1992. Many developers have since attempted to restore it.  P and I spent our entire lunch reading the stories and history of the resort scrolling through the photos. We were engrossed in my PHONE on vacation in Hawaii, exactly what I planned not to do. 

But we all love a good story. 

Which brings me to my point. Who doesn't love the sense of discovery – finding new places, seeing old places, and unveiling fascinating stories? It's why people returned again and again to the Coco Palms Resort – because Grace provided an experience rich with story.

Half a century later, it still intrigues. (It's a story within a story) I had a great visit the second time around to Kauai – not because of the Coco Palms, but because of the new memories and experiences we had on the island.

Humans become more attached when we have more history and relationship with a place. 

How can you replicate that feeling within your business? It's a lot like dating. We don't necessarily fall in love at first sight (although, sometimes we do). To create something long-lasting, we need to build trust and a sense of familiarity.

You are likely not lucky enough to be on former royal Hawaiian grounds or have hosted Rita Hayworth, or been the site of Elvis' Blue Hawaii wedding. But you have interesting stories that tie into a more significant theme or event in the past. 

Don't take that new love for granted. Getting the first date is a lot easier than the second date. The hard part is making it work for a long time. 

Want to read the saga of the Coco Palms Resort? The story isn't over yet: 
Abandoned Kaua'i Jewel
The latest update
[ssba]