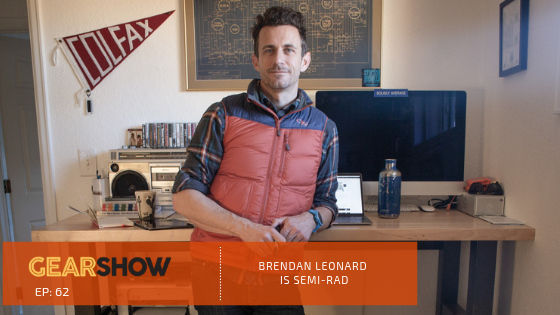 One of the many reasons I do this podcast is because it gives me the opportunity to speak to people who are living their version of success; defining how they want to do life.
Brendan Leonard embodies this perfectly. His message is a reminder to each and every one of us pushing ourselves each day to be better and to do better, that there is joy in every day. That morning trail run before a day sitting in front of the computer. An afternoon dog walk, a glass of wine with a good friend that you kinda sorta didn't want to go do because you wanted to get that "project done" so you could, what, make it big? And sacrifice enjoyment along the way. (You might want to watch his Ignite Boulder talk embedded below before you listen to the pod.)
About Brendan
Brendan is a writer of adventure and travel, and the human experiences that lies within. He is a contributing editor at Adventure Journal and a columnist at Outside. His stories have appeared in Backpacker, National Geographic Adventure, Outside, Men's Journal, Sierra, Adventure Cyclist, and other publications. He is a public speaker, and an author of books like Sixty Meters to Anywhere and the New American Road Trip Mix Tape.
Like many of us, our rock bottom informs who we are now and rock bottoms have varying degrees of lows. For Brendan, it was alcohol and jail. He made a choice at his rock bottom. he stopped drinking, found journalism, and the mountains and the rest is history
Today we discuss:
Starting from rock bottom and pushing through adversity
The not so glamorous side of creativity
The rewards in putting your work out there and a lot more.
Let's listen in gear up for what's next.
Have questions? Guest suggestions? I'd love to hear from you. Contact me here or in the comments below.
Where to Find Brendan
Watch his Ignite Boulder talk below
How to Listen to Podcasts
There are a number of ways to access this (and other podcasts). You can listen directly from this page by clicking that orange play button above or the download link.
If you are on an iPhone, go to iTunes and subscribe. It will be added to your Apple Podcasts app which comes by default on your iPhone. Once you do that, you can browse around and add others to your podcasts:
On your Android phone, listen to it on Google Play, preinstalled on your phone:
Stitcher is another great app for listening to podcasts. Clicking below goes direct to The Gear Show but install the app and browse around for others: Lastly, I wanted to share with you a new app for finding and listening to podcasts – it's called Radio Public. You can easily import your podcast list from your current app, explore new ones from curated lists, create your own playlist and share playlists with others. Find The Gear Show on Radio Public.
Want to do me a huge favor?
Reviewing and sharing are the most helpful ways to get this in front of new listeners.
Make sure and get the next episode in your inbox – subscribe right up there, top right of this page.
If you enjoyed this podcast, I would LOVE it if you reviewed it here on iTunes! It makes a big difference!
I really want to hear from you – questions, topic and guest suggestions, anything. Talk to me in the comments below or here.
See you next week!
[ssba]