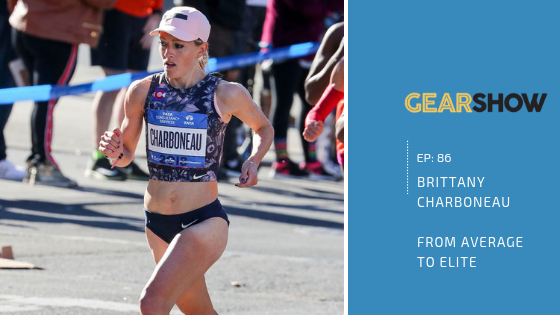 Denver-native Brittany Charboneau, known as The Funny Runner, is pursuing a career in running and comedy. An average athlete much of her life, she just qualified for the Olympic Trials' A' Standard at the 2018 Los Angeles Marathon with a time of 2:36. We had a lot to talk about.
Sponsored by fellow Colorado-native company OtterBox, and thanks to her coach Jenni Nettik with Mercuria Running and her entire "Dream Team" of trainers, she not only qualified for the trials, she also was the 10th American finisher at the 2018 New York City Marathon and finished 11th at the 2019 New York City Half Marathon. Most recently, she has stepped into the trail running scene and her debut season saw wins at the 2019 Leadville Heavy Half, Telluride Rundola and Aspen Backcountry Heavy Half.
Her background of improv and sketch comedy stems from her training at The Second City Chicago and The Annoyance Chicago. Brittany teaches improv and performs regularly at the Bovine Metropolis Theater in Denver. She has written, performed, and directed her own one-woman sketch comedy show called "My Long Distance Relationship with Running: From the Early Miles to the Olympic Trials."
Brittany was an Olympic hopeful from childhood but was a very average runner/athlete through school and college. Eventually, she quit her job to pursue a career in running and comedy. We talk today about listening to your gut, following your path and finding the confidence or the signs to know you are on the right track.
There are many lessons in today's show. Enjoy and with that, let's listen in and gear up for what's next.
We talk about:
How she made the transition from the middle of the pack to an elite runner
Taking a big leap and following your path. And wondering if it is even the right path.
Setting small goals to achieve big wins
Adapting to things outside of your control
Her strategy for winning the Olympic trials
So, with that, let's listen in and gear up for what's next.
Where to find Brittany
Want to do me a huge favor?
Reviewing and sharing are the most helpful ways to get this in front of new listeners.
Make sure and get the next episode in your inbox – subscribe right up there, top right of this page.
If you enjoyed this podcast, I would LOVE it if you reviewed it here on iTunes! It makes a big difference!
I really want to hear from you – questions, topic and guest suggestions, anything. Talk to me in the comments below or here.
See you next week!
[ssba]