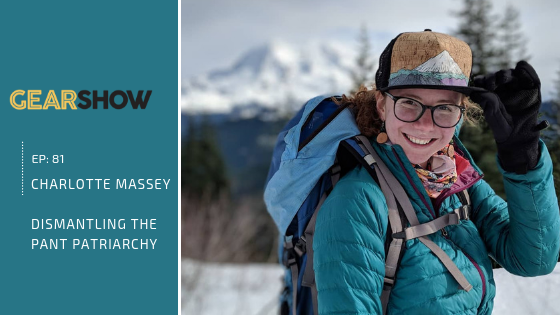 Charlotte Massey, Georgia Grace, and Bianca Gonzalez are redesigning pants so they work for women's bodies. It sounds silly that no one has addressed this issue before. Why not? Charlotte Massey joins today, and she's going to walk us through a little fashion history, something we don't often discuss here at the Gear Show. We'll discover how three women in college have come together to solve a problem and take an essential step in making the outdoors more inclusive by making it easier for women to "go to the bathroom."
It's easy enough to come up with an idea. Charlotte will tell us how they made this idea happen. It's something women have been waiting for – their Kickstarter campaign raised over 50 thousand dollars when their goal was 15 thousand.
Today, you're going to see the outcome of when a dad never doubts your ability to do whatever it is you want to do.
and with that, let's listen in and gear up for what's next. 
Where to find Charlotte:
Want to do me a huge favor?
Reviewing and sharing are the most helpful ways to get this in front of new listeners.
Make sure and get the next episode in your inbox – subscribe right up there, top right of this page.
If you enjoyed this podcast, I would LOVE it if you reviewed it here on iTunes! It makes a big difference!
I really want to hear from you – questions, topic and guest suggestions, anything. Talk to me in the comments below or here.
See you next week!
[ssba]