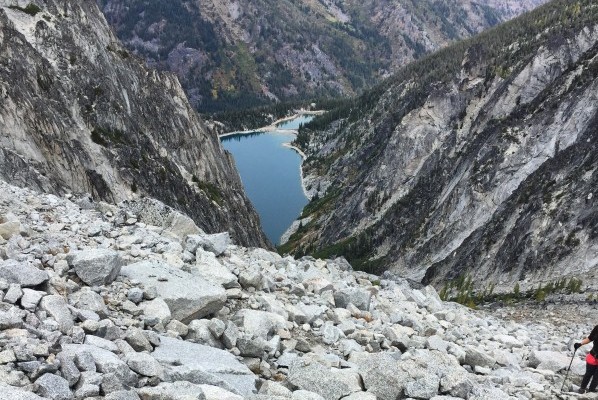 This past weekend I revisited the site of a previous meltdown. I went back and ran the Enchantment Lakes trail, an 18-mile trail I had done about 15 years ago, when, about three-fourths up Aasgard Pass, I asked myself why I can't be content just sitting home in front of the television on a Saturday afternoon in the fall instead of terrified on this rocky slope with plenty of room for error. There might have been some tears.
So I returned, not only by choice, but in fact, it was my idea.
We left the trailhead at 7:20 am and, with a long day in front of me, I had lots of time for reflection; trying to keep my mind off the miles ahead and the cadence of my jog, I had occasional conversation with my pal, but mostly I reflected on where I'm going – not on this run, but in life.
My friend and I estimated that with the 4400 foot climb and 7000 foot descent, and difficult footing, it would be slow going, taking us eight hours at the most.
A theme began to emerge as the run unfolded and that was the idea of chasing goals when they are moving targets: Both in our business, and in this godforsaken run that seemingly would never end.
First of all, why do this? Most of us have our outlets. Some turn to cooking or knitting to relax, others to biking or running, and some to base jumping and rock climbing. I get mired in anxiety pretty easily so I need to take time in the wilderness pushing limits and escaping the every day nonsense that is weighs me down. One might call that finding perspective. Typically, that clutter that weighs us down tends not to matter and it's good to recognize that. That's what our personal outlets are for.
I started to think about all the things I'd like to accomplish in 2016. And I reminded myself to remember to be grateful for how far I've come because goals are a moving target. We never arrive. If I knew ten years ago, I'd be where I am now, I'd think I had arrived. Life's goals accomplished. Instead, I'm only looking ahead trying to get to the next one.
Stop and appreciate the progress. That's my first order of business.
I had it in my head that once we complete that climb, the hard part is over: It's a smooth gradual downhill all the way out, for about 12 miles. In other words, we would have arrived.
But that was not to be. The trail was technical and steep with granite slabs, boulders and tree roots, not to mention hard to find trail. We still had a great deal of work ahead of us.
I didn't have that fear, though, that I did last time. It was more about mental focus to persevere. The threshold for fear and discomfort changes each time you push it.
About six hours in, we estimated we had about 6 miles left. That would be about an hour in normal trail running conditions. So I was starting to get excited.
However, another hour passed and there was still no end in sight. A couple hiking the opposite direction informed us, when we asked, that we had 5.75 miles to go. You cannot imagine how deflated that made us when we thought we might be about 15 minutes from the end.
Chasing goals that are moving targets
Shift into mental lockdown when you aren't achieving the goal when you think you should be. 
I had no choice. It was time to put it into lockdown and get 'er done. When the task/project/initiative isn't as easy as you thought it was going to be, instead of giving up and walking away, you double down and reset your frame of mind. Dig in deep to the reservoir for renewed energy if you must.
Mind focused on the prize: the sea salt potato chips waiting in the car, the wine on the deck in our cabin, we finally did arrive.
I dove face first into those potato chips and started thinking about what's next…
PS. I'm reading Running with the Pack by Mark Rowlands. If you like running and philosophy, you'll enjoy this. and understand what influenced me to write this. 
[ssba]