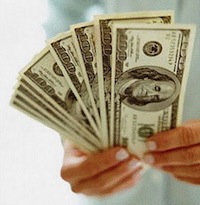 Any fans of "Miracle on 34th Street" out there?
Kris Kringle had all these great ideas. Do you remember? He introduced the idea of creating a massive notebook containing products and services available throughout New York City. If a customer came in looking for something Macy's  didn't carry, the sales associates would be able to direct them to the right place.
Customers were very pleasantly surprised by this tactic and they kept coming back because they knew they'd get the information they needed. Macy's helped solve their problem.
Today, we call that content marketing. Or, we could just call it really good marketing.
Content Marketing is Good Marketing
Danny Brown and I had this conversation via email earlier this year. He said content marketing is just marketing and I thought, "Well, yeah!"
Marketers love buzzwords and if you are a regular here, you know I'm not a fan. So the email conversation we had really struck me.
In 1947 (if not sooner), retailers were already thinking about how to become a trusted resource and make the process more about the customer experience and less focused on sales. By providing information, they become the go-to retail stop. Over time, that will increase sales as a by-product of building trust.
Content isn't just media. It's also verbal.
A few weeks ago, I was shopping in Nordstrom with a girlfriend who needed a new wardrobe.
Neither one of us are very good shoppers, but it was Christmastime in Seattle and we were up for the challenge. We wandered aimlessly around the second floor for about 5 minutes.
My friend became overwhelmed with all the choices and JUST as she suggested we leave, a sales associate came up to us and asked if she could help us find anything. You know how the story goes from here: She took us place to place picking out items and sent us in the dressing room. She continued to bring pieces and replace things that didn't work.
My friend ended up spending $700. Had the associate not tuned in, Nordstrom would have missed out on that revenue in about 30 more seconds.
You realize that's content, right? The associates know about the fashions and trends, what product they have on the floor and where it is, and how to fit it to a person's needs.
I can't get this $700 out of my mind. It frightens me to think how much money we can be losing if we aren't delivering information at the right time and place.
It's far too easy for any of us to take our money and move on to the next place.
Content Marketing Is Simply Good Marketing
This concept doesn't start or end at having a blog. I know blogs drive traffic and generate tons of business, but millions and millions of people have never read a blog.
Content is an upscale word for providing information and answers – in the form of articles, blog posts, verbal explanations on the phone or via the chat function on your site, or the form on your website.  The method of delivery depends on your business model.
Have you submitted a form on a website and not heard back? Or hung up in frustration when viciously stuck in the phone tree? Or bounced off a website because it was unhelpful?
And you moved on to the next provider; the one who could help you with answers to your questions, so you can make your purchase.
The winners in today's marketplace are those who do a good job at compiling the vast array of questions their prospects ask and finding a way to delivering it properly: Before that customer with the bulging wallet turns around and walks out the door, clicks away from the website, or hangs up the phone.
---
Download From Transactional to Transformational: Elevate your organization's positioning with effective storytelling.
[ssba]