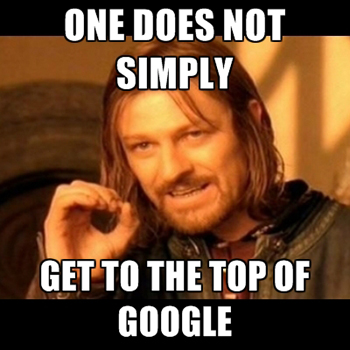 I know. There is a lot of change in the world of search and you can't keep up.
You know it's critical to your business to be found online but SEO just sounds complex and overwhelming.
I'm going to help dissect this – because we can stop worrying about the day to day changes – the new strategic alliances between social networks and search engines, the algorithm updates (Penguin and Panda) –  and focus more on the long-term end game for the search engines.
In other words, if we understand what they are trying to achieve in the long run, it is enough to inform our strategy without getting bogged down in the day to day tactics.
Let me start by saying I'm not an SEO expert. I am an integrated communicator. I help clients with their online and offline marketing communications. And because of the emphasis on online communications and the need to be found online by the right audience, I am by default, in the business of SEO.
The Future of Search
Bing, Google and the newest DuckDuckGo and any others are all jockeying for domination; they want ad revenue. To win at the ad revenue game, they have to have eyeballs; that's us. Performing searches. And if they want us, they better be delivering really relevant results and overall positive experience.
Semantic search is the convergence of elements that are new to the old school SEO scope of work. It takes into account your owned content, your created content, your social graph, your SEO (yes, the basics still matter), your PR (blogger and media outreach). It funnels into this thing called the SEO of Content, but I prefer to just call it: Marketing.
Here's how search engines used to work: It was all about keywords. If the keywords matched, it was good to go. The more the better! And so, we'd get a lot of spammy keyword stuffed garbage in our results. And that doesn't work. So now they are taking into account much more than that.
Here's how they will go about doing it: Your content has to be popular. Spammy content is never popular so keyword stuffed sites are now being appropriately penalized. People have to be sharing it on social networks. Authoritative websites have to be linking to it. And of course, it needs to have keywords, but too many, and you're done.
So while the user experience is not perfect, the evolution and updates we are seeing in the world of search are headed in that direction.
Knowing that, you can go about developing your content strategy without worrying about the fact that Bing just signed an agreement with Apple to be Siri's search engine. That Google just launched the Knowledge Carousel. That Bing takes retweets and Facebook shares into account when that could change tomorrow.
I'm not saying you ignore these factors because it might change the way you execute programs, but it won't change the fact that first and foremost, you have to create interesting content that gets shared and linked to.
I get asked why we are more expensive than an SEO agency, and there are a few reasons. SEO is no longer about cramming in keywords and submitting to numerous links. It takes a lot of time and effort to create quality content that becomes popular. You can't just buy "likes" and "followers" in bulk and have that make a difference. You actually have to create relationships and build community. You can't just submit links to directories; you actually have to do outreach to authoritative sites and get stories written about you. You can't just pay someone to submit reviews about you; you have provide a great experience and let your customers do the talking for you.
SEO is content marketing is marketing.
I welcome your thoughts and comments.
[ssba]