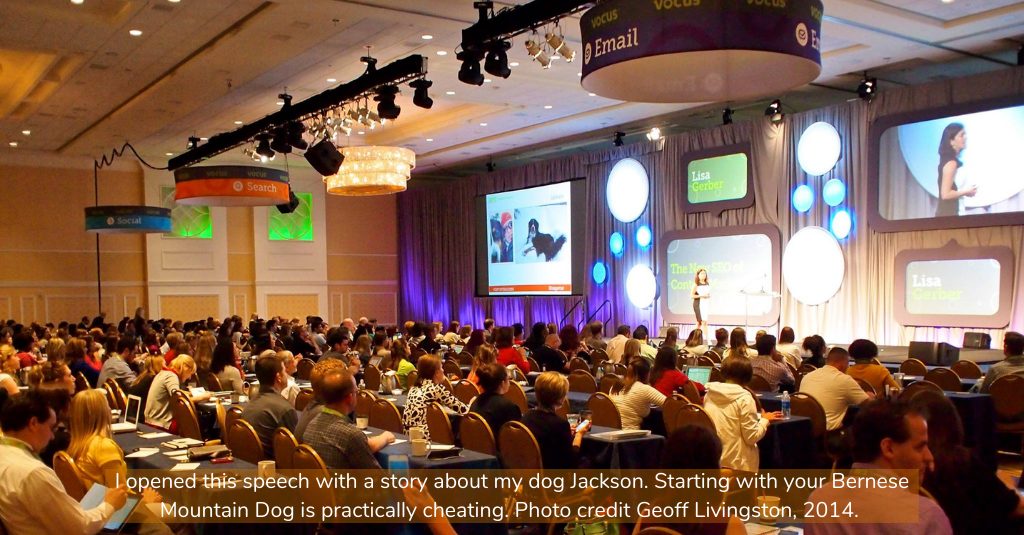 Last week, I met with a client to talk about her gala speech. This was a big night for her because she was stepping into a new role as executive director. The announcement was happening that evening and we discussed what she would say.
Her inclination was to keep it short, say thank you, and how excited she is for this new responsibility. I agreed on keeping it short, but I thought she should do something a little more than the expected message. This was an opportunity for her to make a connection, and I didn't want to be wasted.
What if she shared a personal story – one that demonstrates that her experiences both personally and professionally have brought her to where she is today in a serendipitous moment? (Everyone loves a little serendipity, don't you think?) This was an opportunity to address the organizations top donors and stakeholders and cement in their minds the organization is in good hands. "We got this."
Getting up in front of people and telling a story, especially about yourself, is a vulnerable moment. You risk that people will think you're self-indulgent. Maybe they won't be interested. Perhaps you don't believe you actually have an interesting story to share. In other words, you fear rejection. Am I right? Or what? Tell me what keeps you from sharing personal stories. I'd love to hear – email me.
I get that there is a downside to talking about yourself, but the upside far outweighs the downside. One indicator that people love personal stories is the reaction I get to this blog when I tell a personal story vs. when I do a more professional-related topic. I get way more comments when I get personal.
I don't care what business you are in. People are hungry for connection.
Doing it the right way.
Humans are attracted to things we aspire or relate to. Like the time I gave a speech in Boston to an audience of 700 people on the power of storytelling, and a CEO in the audience who races in Ironman competitions contacted me to help him with his storytelling for leadership. He said he related to me because I used outdoor brand examples. He felt like this is a person I can trust and want to work with. I didn't even consciously tell those stories for that purpose. I was just being me.
Given a choice, we choose the person we aspire to or relate to. And we can't do those things if we don't know you.
So I encourage you to take that leap and let us get to know you.
If the thought makes you feel a little sick to your stomach, I have some safeguards for you. To shield you from possible rejection, there are three things to keep in mind. Do at least one of them.
Inspire – Maybe you are just ahead on the journey others are taking, and they can get inspiration from you. The idea that: If you can do it; they can do it. Don't brag, inspire.
Relate – Ever look at the US Magazine section – "celebrities, they are just like us!" They show them going to the grocery store and doing everyday things. An influencer I follow is an American Express ambassador. She shared reels of her shopping in Soho boutiques and charging up her Amex card. Someone in the comments said #relatable in sarcasm font. Relate to your audience, don't isolate them.
Teach – Sometimes you want to prove yourself. How can you make it a teaching moment? This is a great way to give proof you can do something but in a way that is giving, not boring.
In other words, don't brag, isolate, or bore your audience.
Do that, and you'll do fine. Trust me. Take a leap.
Back to my client: We spent some time exploring her background and the experiences that led her to where she is today. It's not my story to tell, so I won't tell it here. Still, the idea is I found something that linked to the work she does and why it matters to her as a mother, and it's a story she was able to share with the most prominent donors of the organization so they could get a sense for what she would be like as the organization's new leader. They could feel trust in the direction they were going. They might even shed a tear or get choked up if they had a glass or two of wine.
I know it's nerve-racking. But don't relax into the expected. Push out of your comfort zone, take a leap and tell a story about yourself. If you want, start now by emailing me here.
Alternatively, if you need someone to help you take that big leap, let's schedule a time to discuss.
---
Please join me at the Annual Nonprofit Statewide Conference, August 31 – September 2, 2021. I will be presenting Get Noticed, Remembered and Funded: Storytelling for Nonprofits and would love to see you there.
This year, it will include both virtual and in-person components. All aspects have great content to help the nonprofit sector grow. During the conference, all attendees will have the opportunity to fully participate in their chosen breakout sessions through microphone enabled live Q and As, polls, and text chat features.
Early bird pricing closes August 2 (that's TODAY) with final registration ending on August 21. Learn more about this three day learning event here.
---
Take care out there,

---
Some ways I may be able to help you and your team:
Want help seeing things differently? Ready to make that idea of yours happen? I still have a few spaces available in August for my Take a Big Leap Coaching program for purpose-driven individuals who want to make a big change or level up their career, business/organization, or want to strike out on their own and launch their thing. This four-month, one-on-one program will help you articulate and make your idea of change happen. Respond here, and we can schedule a time to discuss.
Help non-profit team members level up their storytelling. In this three-part series, I can work with your team to help you elevate your organization's communications and storytelling skills. Want more details? Respond here to schedule a time to talk.
Digital Transformation. Need to bring your work online? I'm here to help. Contact me for details.
---
Stay in touch.
Sign up for our newsletter / podcast to get emails of great stories like this.
[ssba]