and The Beauty of Please and Thank You.
I wasn't going to respond to the RFP (request for proposal).
I usually don't. They take a toll in terms of time and resources, the odds of wining are typically really slim, and sometimes the process is just a formality. They know who they want, but are required to go through the bidding process.
But this one was for a client I'd love to add to Big Leap's portfolio. It would be a perfect fit and I had some fantastic ideas for them, so I decided to go for it. The odds are certainly slim if you don't try!
I skipped an evening hanging out with my husband to hang out with my laptop and put together a creative proposal. I uploaded it to the system, and received a success pop-up window.
Twelve days later, I received my next communication. It was a Friday evening and I was out with friends on my second glass of wine. I saw the pop-up window on my phone when the email came in so I had to look of course: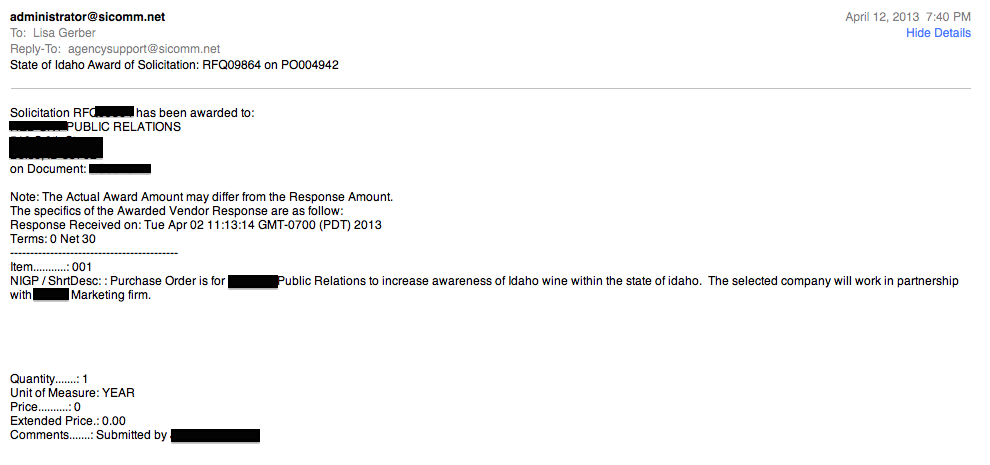 After I invested six to eight hours into my application, someone didn't even have the time to say, "Hey Lisa, thanks so much for your interest….. blah blah blah."
This has nothing to do with winning or losing the RFP. My friend's agency won, and she rocks. She has the relationships, and is an obvious choice. I would have loved to beat her, but I didn't. That part is fair and square. The email however, bummed me out. It took a great deal of energy not to let it ruin my evening.
My point is there is a human at the other end of your automated tools.
I switched my bookkeeping system in January to Quickbooks Online. It automatically sends out invoices via email and allow for online payment which is wonderfully convenient. The first month my emails went out and instead of addressing the message to the client contact's first name, they all went out to "Dear <Name of Company>." and the invoices came from "Lisa Gerber's Company" instead of Big Leap Creative. Oy.
I was mortified, so of course, I quickly sent out an email apologizing to each of my clients for calling them by their company name, and stating that clearly I needed to go in and set my preferences appropriately. Everyone laughed. It's not a big deal. They'd all been called worse things before.
The debate between automated marketing and grassroots/manual marketing still rages on but automated marketing is here to stay. It has to in order to scale. We can't possibly be expected to conduct all of our communications manually. This does not in any way mean that your automated marketing should come off as that. There are still humans with emotions and feelings on the receiving end.
How to Avoid Your Automated Tools Turning You Into a Tool
It's not that hard but it will take some time and effort. Sign yourself up for each and every function, tag, and list you have going in your systems to get a taste of your own medicine. Test out each path and process and make sure the communications are personal, friendly, and appropriate to the situation.
Use first names, and in some cases, prefix plus last name, if you need to be more formal. Pay attention to each and every detail. Show you put some effort into this by knowing your audience.
If Ryan Solutions can do it, you can: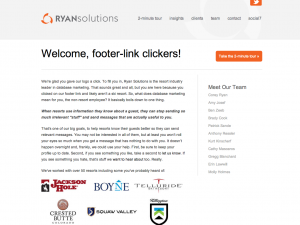 This is a webpage I was directed to when I clicked on their logo in the footer of an email. I wanted to learn more about them, and they showed they know exactly who I am – I'm a footer-link clicker!
If Viewpoints can take the time to thank me, you can too:

Use the tool; don't be the tool.
Remember your audience and why they are receiving your communication. It's not that hard to personalize an email and thank them for their time and interest.
Oh, and thank you.
---
Download From Transactional to Transformational: Elevate your organization's positioning with effective storytelling.
[ssba]