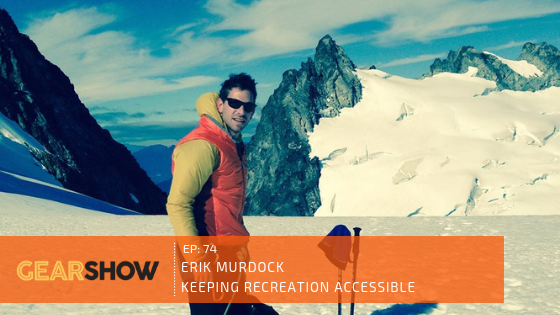 Erik Murdock is the Policy Director for the Access Fund whose mission is to protect climbing access and conserve the environment. He represents climbers' interests and values in Washington, DC while monitoring activities on Capitol Hill to identify possible threats (and opportunities) to climbing access and conservation.
What draws someone to this type of work, I wondered? It's not like we had this as an option in our heads when we were six and dreamt of becoming firefighters and fashion designers.
We're going to learn more about Erik's journey. But let me start by saying, you never know the impact a decision or an event can have on the rest of your life. In Erik's case, it was a cross country road bike trip at the age of 16 (and, he'll add, a parenting decision on behalf of his mom who actually let him do the trip) that set his life on a huge trajectory.
His various experiences combined the physical sciences with the human dimension to understand how to manage lands and advocate for our interests – for those of us who live to play in the wilderness. 
I learned a lot talking to Erik and know you will as well, from what types of policies are currently being reviewed by our Congress, to the impact of government shutdowns on our environment and how we can stay informed and get involved. 
It's great to have people like Erik advocating for our interests and I was pleasantly surprised by how optimistic he is with the current state of affairs. 
With that, let's listen in and gear up for what's next. 
Where to find Erik:
File an Access report, subscribe to the monthly policy digest, and get involved:
How to Listen to Podcasts
There are a number of ways to access this (and other podcasts). You can listen directly from this page by clicking that orange play button above or the download link.
If you are on an iPhone, go to iTunes and subscribe. The Gear Show will add to your Apple Podcasts app which comes by default on your iPhone. Once you do that, you can browse around and add others to your podcasts:
On your Android phone, listen to it on Google Play, preinstalled on your phone:
Stitcher is another great app for listening to podcasts. Clicking below goes direct to The Gear Show but install the app and browse around for others: 
Want to do me a huge favor?
Reviewing and sharing are the most helpful ways to get this in front of new listeners.
Make sure and get the next episode in your inbox – subscribe right up there, top right of this page.
If you enjoyed this podcast, I would LOVE it if you reviewed it here on iTunes! It makes a big difference!
I really want to hear from you – questions, topic and guest suggestions, anything. Talk to me in the comments below or here.
See you next week!
[ssba]