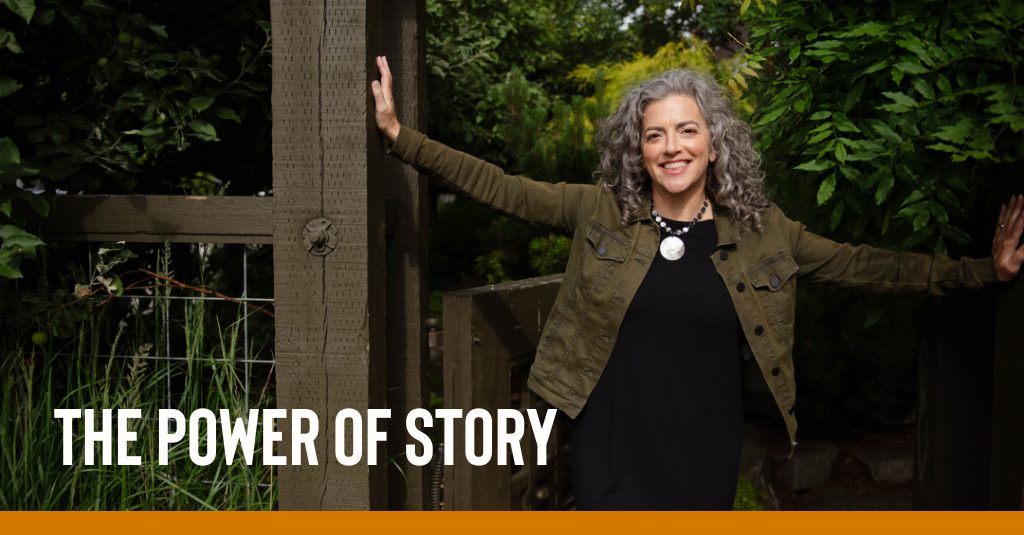 My client had butterflies in her stomach as she took the microphone during a reception for a large client event with major vendors and sponsors in attendance. The objective of her message was to thank people for attending and to thank sponsors and vendors for their contributions. She also needed to raise money.
Interrupting the vibrant conversation to do this was going to be a tough task. She knew she needed a compelling message. So she told a story.
The theme of the event that night was "tailgate party," and my client had just the story to tell. She talked about how, in high school, she was rejected not once but twice from the cheerleading squad and how glad she was to be able to redeem herself decades later.
Everyone laughed; she relaxed (nerves were gone) and continued on to share her message with captured attention.
Something happens when you tell a story; it's almost magical. You capture attention and shift the energy. People get to know you, relate to you, and it attracts the right people to you. After her presentation, several people approached Nancy to share their own rejections in high school. Others sought her out to have a good laugh with her.
Stories don't need to be novel or death-defying. They are like little pull tabs that start a conversation and give the receiver something to latch onto, respond to, and pull on to discover more. People crave connection and purpose. Stories? They aren't about stories. They are about connection.
Cognitive linguist George Lakoff says People think in frames, what he calls "unconscious structures." In other words, we see, hear, and interpret things from our own experiences and perspectives. This means that as hard as it may be to comprehend, facts and data matter less in changing people's minds. It's why Trump can say and do what he does, and his fans will continue supporting him. On the flip side, it's also why the Dalai Lama can do things, and people will justify it.
We see things through our already structured beliefs, values, and experiences. When we hear a story, we run it through that frame and inevitably have a response or an emotional attachment to it. We'll dismiss facts if they don't support it.
We tend to make decisions emotionally, (though our frames) rather than rationally.
People flew from around the country to attend my client's event not because it was a rational thing to do. They did it because they love the beautiful relationships and memories created each year. They feel included and don't want to miss out.
In the absence of emotion, we make decisions rationally, like how to choose which box of paper clips to buy: I'd go with the cheapest. But I'll pay $85 for a pair of running shorts from Patagonia because I love their work and their story and want to be a part of who they are.
If you want people to make emotional decisions, connect with them. Tell them with a story.
Take care out there.

---
SOME WAYS I MAY BE ABLE TO HELP YOU AND YOUR TEAM:
LEAD YOUR WAY: This mentoring/coaching program is designed to help you step into your leadership and show up as your best self so you can communicate to connect and amplify your impact.
COMMUNICATE TO CONNECT: In my storytelling workshops, I teach leaders of all capabilities how to engage authentically with their teams, community, and stakeholders to create meaningful connections that build trust, increase team engagement and lead to better fundraising and revenue generation.
Did you have something else in mind? Let's talk and see how I might be able to help. Contact me and we'll schedule a chat.
---
Stay in touch.
Sign up for our newsletter and receive a digital version of my book From So What? To So Funded! for free.
[ssba]