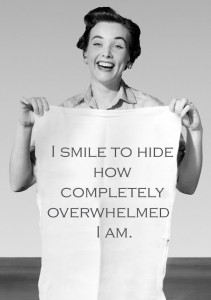 This post is dedicated to the one who knows. She is too shy to be named, but we are all her so it doesn't matter.
We are going in ten million directions. And we're in stimulus overload. We constantly have ideas so we make lists and take notes. They are everywhere – the notebook by the bed, the pad in the car, the house desk, office desk, work bag, we have no idea where they are.
We can't execute because we're a mess.
During a client call this week, my client anxiously shuffled through her papers to find the list related to each new agenda item.
We laughed.
She said, "Don't think I'm a cluster."
I said, "Oh, you're a cluster and I'm so blogging about it."
Having ideas is awesome. Executing them is the hard part – we all know that. And wouldn't it be easier to execute if you were organized? When all the stuff is organized, we can be more productive with our time.
The reason I love Evernote (well, there are 6,534 reasons) but the main reason is it's designed to be your external brain. If you unload all the clinkety clattery little stuff you're trying to keep track of and release it into an organized "filing system," your brain is freed up to think of bigger picture stuff, and you become more productive with your time.
I've written about Evernote before; I'm a bit of a fan girl. Today, I want to speak here specifically to organizing all the junk so you can "do."
Set Up Evernote in Four Steps:
Download evernote on your devices. I have it on iPad, iPhone, and computers. They sync so you always have access. 

Watch this seven-minute video with Evernote open in a different window and quickly get it set up with notebooks and tags.
Add your Evernote email to your address book. You can find it in your settings. This allows you to forward emails, or send webpages to Evernote. You can even send it direct to tags, by adding those in the subject line with the # sign.
Download the Evernote Web Clipper which allows you to immediately clip web pages into those tags.
Integrate Evernote Into Your Daily Routine:
File all your random hand-written notes! Many of us will never get away from the handwritten list and that's OK. Write a list for a certain topic or project then scan it into Evernote and tag appropriately. Use keywords that will help you find it when you need it. If you have an iPad, get Penultimate and handwrite on your Ipad.
Meeting notes in Evernote. I have a tag set up for each client and file it appropriately. It keeps my to-do's for the week, and I can easily reference all my post notes categorized by that client so all the follow-ups get followed up upon. I can also email the meeting re-cap direct from the app.
All the random tasks. I have tags for each day, Monday to Friday plus a "weekend" tab for things I need to get done in general before the next week. That way, I can spread everything out.
Projects. I create a tag for each of my projects so if I think of something I can just email or clip it to that project. I have a speaking engagement I'm preparing for. I created a tag for Vocus and I when I come across and article or an example I'd like to use, I send it in to my Vocus tag for when I'm actually working on the presentation.
Reading and reviewing. I always come across articles or ebooks or technologies I want to test but I'm in the middle of something else. I clip it or send it via email to my read/review tag.
People and places. I have tags for people in my life and for places I often go to. So I have a "town" tag. I'll add "Buy bike gloves." so I remember next time I'm in town, my bike gloves need replacing. I'll add vacation home rentals I find to "Patrick" so I remember to talk to him about the cool beach house I found for our next trip. I'll put "new earbuds" under the "Spokane" tag to remember to replace the ones I crushed when I drove over my work bag I left laying in the driveway.
Each day, I look at my tasks for that day. On the weekends or in the evening, I clear out that read/review tab. When my PR consultant starts asking me questions, I can easily search by tag or keyword to find those items I wanted to bring to her attention.
If you already had evernote, you could send this post to your weekend file and get it done this weekend. Since you don't, maybe you should just take a 1/2 hour break right now and do it.
So now it's your turn, how do you keep organized? And if you use Evernote, how else do you use it?