If, as a brand/business, you decide to launch a content marketing or inbound marketing program, or simply a blog (or whatever you choose to call it), for the wrong reasons, it will certainly fail to meet your expectations. Red flags I see, as we begin to engage with clients are questions such as "how soon will this start working for us?" or "our leadership team doesn't yet see the value in this so we'd like to start by blogging twice a month."
It's like being partially pregnant. It doesn't happen. And it's an apt metaphor because starting a content program is like having a baby. Have a baby to save a marriage, and you're like to be disappointed. Have a baby because you want to dedicate your life (or a good part of your life) to creating something, watching it mature, and being proud of something? Those are the right reasons.
Yes, content marketing is about growing business, and making more money. But having a leadership team that says go try it and show us some results and we'll dedicate more resources to it, is as hard as trying to start a business while you still have a full-time job. At some point you have to make the leap and go all in to really demonstrate it's capabilities.
There has to be cultural adoption across the organization.
Remember, this is a baby  and if everyone isn't dedicated to helping it mature, it's not going to. If you have skeptics or detractors standing by waiting for it to succeed, you have a longer road to push this baby up.
Creating content and promoting content takes everyone's participation. Idea generation comes from the front lines, product development, sales and marketing, and the executive team. These various segments each have perspectives about prospects, buyers and advocates and know what each needs at each stage of the purchasing funnel.
Content marketing doesn't end at development. The promotion part is the hard part. Because we forget about it. We publish it and assume the masses will come flocking to our beautiful blog post, corporate video, or new website. We think they'll subscribe to our emails and podcasts in droves. But content promotion comes from everyone within the organization. It becomes protocol to share content at appropriate times be it in face to face conversations, email dialogue, social interaction, and sales calls. Everyone needs to use their digital assets and show them off like they are proud of them, which they should be!
What happens if they don't?
Publish and watch it languish. Some poor soul is toiling away in front of their computer churning out one post a week and hoping and praying it gets traction as they push it out once to their meager audience on social channels, which is meager because no one is tending that home, either. And I can at a minimum live with that if they were at least pounding the pavement building an email list or sharing during client on-boarding, prospecting, nurturing and even by way of media and blogger outreach.
Get Organization Buy-in Of Content Marketing
So make sure you have everyone on board when you embark on a content marketing program. Here is a graph a former client recently sent me. I worked with them (software as a service provider) in the first two years of the graph. It's lonely at the beginning. I'm not going to BS you. But you will get lucky and see some early results. Meanwhile, look at your chart in the first year, and in your mind, extrapolate the possibilities. Understand you'll be attracting the right kind of traffic because you're answering questions, solving problems, and generally becoming a trusted resource in your industry.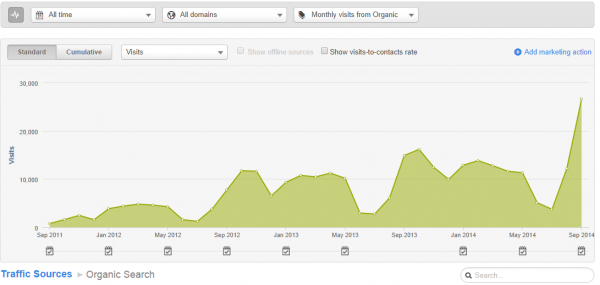 The right reason to get started in content marketing is because you want to make a difference, and you want to establish your brand as a trusted resource for something. And to make money by doing that. Set yourself up for success by putting a solid plan in place and get your people on the bus by establishing who will do what from content creation, to social engagement, to an email outreach campaign, to an integral sharing plan. Everyone in your organization interacts and has networks who would find your content of interest. Make sure your tentacles reach as far as they can.
I want you to publish and flourish. not languish.

The foundation of any content marketing plan is your own website. I co-created this ebook with Hubspot to make sure your website has it needs to achieve what it needs to before you spend a dollar on design and development. 
[ssba]