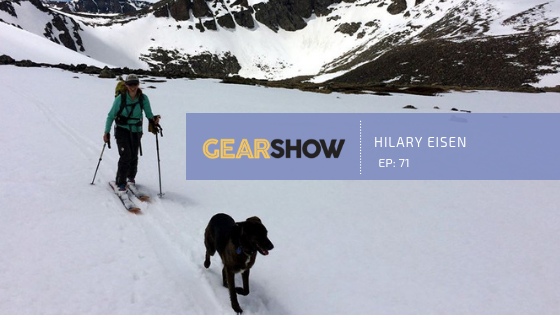 I first learned about Winter Wildlands Alliance when I attended the backcountry film festival this past fall. Turns out, that's how today's guest, Hilary Eisen also learned of the organization about five years prior to that. She is the policy director for Winter Wildlands Alliance, which is dedicated to preserving winter wildlands and quality human-powered snowsports experiences on public lands.
Hilary is an avid backcountry skier and climber with a passion for wild landscapes. She works on National Forest winter travel management and other policy issues that affect backcountry skiers. Previously, she worked on public lands conservation in Wyoming and Montana for the Greater Yellowstone Coalition and Wilderness Society. She holds a Masters of Science degree in Wildlife Biology from the University of Montana and a B.A. degree in Biology and Environmental Studies from Middlebury College. 
We talk today about circuitous life paths and serendipity and how to save the playground we all enjoy.
I'm always fascinated to hear how people land where they do and today we spend a fair amount of time exploring Hilary's path. There are a few reasons for this. I have begun to discover a pattern with the guests on this podcast. They say yes to adventure, they end up taking many routes in life that might seem undirected at the time but end up being totally with purpose in hindsight as a combination of diverse experiences come together to create the perfect job/lifestyle <—- our definition of success.
Anyway, if you love playing in the outdoors in the winter in a non-motorized way, we can thank people like Hilary for looking out for our interests while we're at work. Because that's HER work. She reads through plans and proposals and legislation and translates for the layman so we can understand how it impacts us. She then recommends and or takes action on what she learns.
You'll learn about Winter Wildlands' smart approach to outdoor advocacy.  – collaborating with numerous groups to create a power in numbers.
"Things work better when you work together and don't rely on your little bubble." – Hilary Eisen 
Of course, you might be wondering if her job sucks more with the current administration. And of course, I asked her. 🙂
Where to find Hilary:
How to Listen to Podcasts
There are a number of ways to access this (and other podcasts). You can listen directly from this page by clicking that orange play button above or the download link.
If you are on an iPhone, go to iTunes and subscribe. It will be added to your Apple Podcasts app which comes by default on your iPhone. Once you do that, you can browse around and add others to your podcasts:
On your Android phone, listen to it on Google Play, preinstalled on your phone:
Stitcher is another great app for listening to podcasts. Clicking below goes direct to The Gear Show but install the app and browse around for others: Lastly, I wanted to share with you a new app for finding and listening to podcasts – it's called Radio Public. You can easily import your podcast list from your current app, explore new ones from curated lists, create your own playlist and share playlists with others. Find The Gear Show on Radio Public.
Want to do me a huge favor?
Reviewing and sharing are the most helpful ways to get this in front of new listeners.
Make sure and get the next episode in your inbox – subscribe right up there, top right of this page.
If you enjoyed this podcast, I would LOVE it if you reviewed it here on iTunes! It makes a big difference!
I really want to hear from you – questions, topic and guest suggestions, anything. Talk to me in the comments below or here.
See you next week!
[ssba]