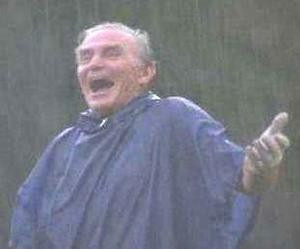 I'm pleased to announce I've returned from the near dead to publish this post this morning.
Unlike the past 36 hours, I'm overjoyed to have the energy to go on this morning's dog walk; to actually want to eat something; and that my brain is willing to cooperate and think. There is nothing worse than your lists and your calendar reminding you of all the things you need to do when all you can really think about is fetal position.
It really is the small things sometimes.
A week ago today we celebrated our five-year wedding anniversary. Sort of. It was the one day since June that it rained all day. It was gloomy and it rained.
All. Day.
We slept in. We went out to breakfast and had the worst service ever. The woman at the next table was irate and she wouldn't stop talking about it and I did my best (using my hands as blinders) to focus on Patrick sitting in front of me and not let it ruin my experience.
We looked at the forecast and decided it might not be raining in Bonners Ferry so we headed out there to play golf. It started raining after the first hole. It was actually a little bit fun because no one was on the course.
But it kept raining. And I played horribly. At a minimum, couldn't I have had a Caddyshack moment? Oh. Wait. Except for the part where he gets struck by lightning at the end.
We had dinner reservations on the lake at our favorite spot, but it didn't stop raining. I didn't see the point of going there if we had to sit inside. We cancelled the reservations and decided to go somewhere in town. That's when I turned and saw Patrick on the floor trying to fix his back with the aid of a tennis ball. He didn't want to tell me he had blown it out during golf.
I offered to go pick up Thai food instead and we watched a movie. I had to laugh. This is how we're doing it? A few years ago, I would have been distraught. I like to make big deals of celebrations, birthdays, and anniversaries. Our day should by idyllic, romantic; why aren't we strolling along the Seine?
You know what? Thirteen years ago, I had something completely different to complain about: I didn't have anyone to blow out his back and stay home rolling on the styrofoam roller while I made a run for Thai food.
What would I do if I didn't have anything to complain about?
With that, I leave you with a Joy Bomb. The idea that an elevator ride in a potentially soul-sucking Dunder Miflin type office building can leave people walking out with big smiles on their faces just makes me happy. Please take a few minutes to check it out and watch not only the initial reactions, but how they quickly loosen up.
Thanks to DJ Waldow for bringing this video to my attention. 
Happy Friday.
[ssba]