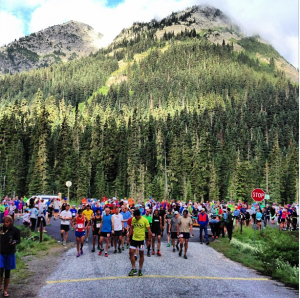 Novelist Jess Walter said he hates when authors say it took 15 years to write a book; and in the next sentence, he concedes it took him 15 years to write a book.
Beautiful Ruins is one of the best novels I've read in recent memory.
Maybe it's the backdrop of 1960s Italy, present day Hollywood and even to my surprise, a finale in my very own town, Sandpoint, Idaho, or the way he wove these wonderful stories back and forth in time in a complex pattern tying it all together in a neat package at the end.
Or maybe it was the incredibly rich character development that leaves me missing them when I'm not with them.
You know those books – the ones where all you want to do is read, but then you start to parcel it out so you don't finish it too quickly. That was this one.
Jess shared his process for writing the book in an in-depth essay in the prologue.
Spurts of production were followed by periods of abandonment. He created two central characters, Dee and Pasquale, and would work on their plots until he hit a dead end. At that point, he'd move on to another project, publish it, and  return to his Italian novel, as he called it: Revisiting the first line in the book countless times over the years, re-writing subplots, adding new characters, giving them new detail…He kept coming back to the book and with added real-life experiences and journeys, stories, articles, and research, he'd weave in new details into the until one day, 15 years later, he had a book.
In the end, it all fell together as if it wrote itself, even though that is far from the truth. In fact, he declares he needed all of those 15 years to complete the project.
I found this encouraging. Sometimes I sit on blog posts for days or even weeks. I salvage some; I delete others that are beyond help. But beyond the task of writing: This could be a about painting, a new product or service, any new project, initiative or goal you might be working on.
Sometimes, we start and it stalls out. Sometimes, it needs to be abandoned altogether, but sometimes, it just needs more time, and thought. And certainly not guilt or stress over not progressing.
It's a lot harder when you can't see the finish line.
This past weekend, I was about 9.5 miles into an 11 mile trail race in the Cascade Mountains of Washington State.  And I felt like I couldn't do it anymore. I didn't know what was ahead – was it downhill the rest of the way? Was I going to have a final climb I needed to reserve energy for or could I let it go and just waste myself away to get to the finish line? I knew I was minutes away from hearing my target race goal time in my earbuds, but my body was screaming to stop.
Someone was on my heels; I could hear it. And I hate when someone is behind me. So I pulled off the trail to let him/her by, and boom. I stopped running. It was sort of involuntary or unconscious. Hands on knees catching breath, I didn't want to start running again. But I could hear the people cheering at the finish line through the trees. I knew I was only a mile or so from finishing.
I wasn't stopped a few seconds and I kept going. I finished 2 minutes over my target time, which was a tad disappointing but I felt accomplished.
If I had had no idea how much further I had to go, I wouldn't have started up so fast.
It's easier to reach the finish line when you know it's there. I knew it was close.
Someone said many projects don't succeed simply because the leader quit too soon. Jess Walter knew he had a book, but it wasn't ready yet. He persevered over the years and changed the course of it many many times. He abandoned the project but never quit.
Knowing when to abandon altogether or persevere is an art form; no doubt.
Persevere on a project you know has merit
Jess pushed through stalled moments. He didn't force anything, but he didn't give up. But you have to think about it, and thinking about it means taking time to thing about big ideas, or work through creative problems. Common threads, patterns, and solutions to creative problems just surface while I'm out on a trail run, or riding in the car. It means, though, that I have to actively think about it. If I'm using that time to judge people's date-ability in the airport (one of my favorite pastimes – what percentage of the population is date-able?), or to think about what I'm going to make for dinner, or just generally not paying attention, I missed the opportunity.
This is why someone needs to invent an app that can read brains so I don't have to stop and write or record a note while I'm out on a run!
Big, complex projects need that time to evolve and mature.
There's no formula or numbered step process to determine if you should abandon an initiative or not. Sometimes quitting propels you forward. Sometimes quitting means you let fear take over; maybe a weak moment.  In the end, we need to make sure our decisions are motivated by the proper emotions: "We tried but this project sucks no matter which way we look at it," rather than the improper ones: "I can't see the finish line."
I'd love to hear from you in the comments.
[ssba]