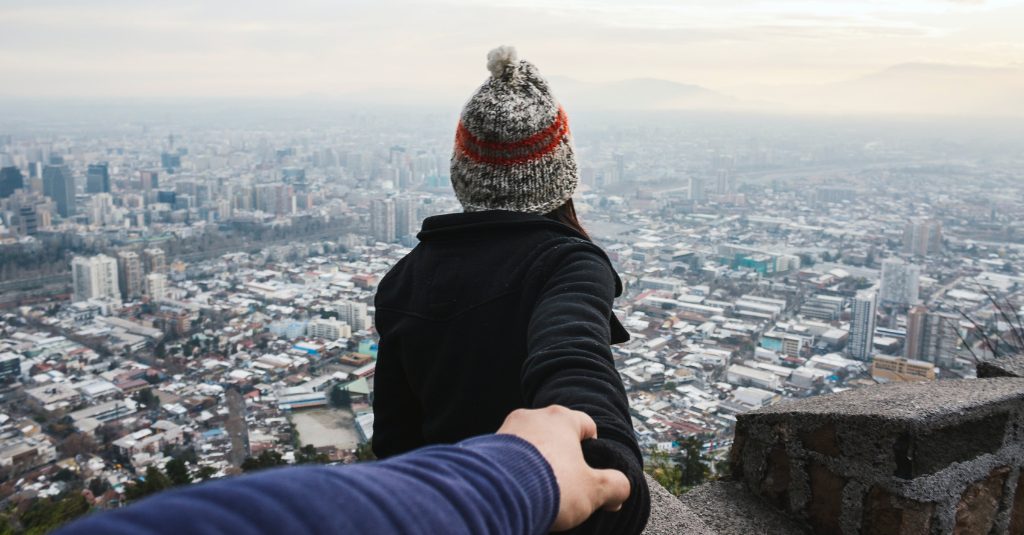 It's not you; it's me.
That may be the case when you are breaking up with a boyfriend or a girlfriend, but let's flip that when you are telling stories.
It's not me; it's you.
We get so lost in ourselves and what we want to talk about that we lose sight of what people care about and that is a common disconnect.
Last night, I had dinner with a friend doing amazing things in the farming and local food space.
Her sourdough bread tastes like heaven slathered with butter, and she does fun flavors like pickled jalapeno and shallots and rosemary and asiago. Her take on sauerkrauts, called Curtados, dresses up any sandwich any day, and each flavor comes with plating suggestions. I literally can't wait for Farmers Market to open so I can get back into our weekly sourdough habit. But you have to get there early because she sells out every week, despite her display growing larger every week.
We ate pizza and watched the sunset over Lake Pend Oreille as she shared her challenges in telling her story.
"It's complicated," she said. And she went on to describe the ecosystem in farming, how specific processes feed into others, and how it becomes this cycle of self-reliance in how each product feeds into the other. I listened as she described why she does fermented foods and how sourdough bread fits into that. (Fermented foods are a great way to use food that didn't get sold fresh, but it's also really good for you, not to mention delicious.) Because she can't do everything herself, she has farmer partners, not employees. So then, does she call it a Cooperative? An ecosystem? How can she come up with a tagline that describes all that?
I clicked right into solution mode. What would be an excellent name for this exciting farming structure she has? And then I remembered that last visit to the Farmers Market before it closed for the season last fall. I usually bought a second loaf because the first loaf would be decimated by the time I got home. I recalled ripping a hunk of the dense, heavy but fluffy bread and smearing butter on it and how so very good it tastes.
I turned to her and said who cares how your farm is structured? People want delicious food in their bellies, and that's all that matters.
They want to know they are eating good food and making good decisions for their family and the planet.
They don't (really) care if your team are employees or fellow farmers, and they don't need to see the legal documents and operating agreements. Just don't run out of food, for godsakes.
Now, I'm being a bit flip here, so if you're the literal type, let me clarify that I don't actually think people are as uncaring as I stated. I believe you have tiers of fans. The first tier is the one who just wants the good stuff. The next tier is those who want to get to know you. They'll dig a bit deeper, and they are curious and will ask you about it at the market. Then you have the third tier – the ones obsessed with you. They either want to be you when they grow up or get involved with you more significantly. (In my friend's case, it would be to join the cooperative as a farmer contributing another skill that adds to the eco-system.)
As is always the case, how you talk about yourself changes accordingly. Take a look at this cartoon showing a guy who somehow decided he wanted to grow his Linkedin following, and here he is standing on the street corner trying to do precisely that.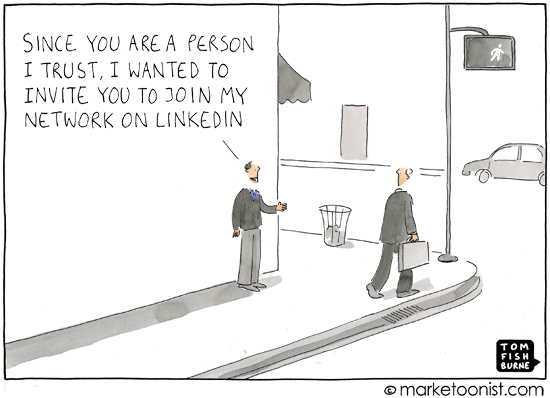 Awkward.
Try to explain your farming cooperative in a tagline? It's like standing on the street corner asking people to connect on LinkedIn. Put that on a page on your website – "redefining farming" – and save the tagline to talk about the customer experience.
When sorting out how to talk about your organization, it's helpful to get out of your head and into theirs.
Make it about them. It's not you; it's them.
Take care out there!

---
Some ways I may be able to help you and your team:
Need Guidance And Accountability? Take a big leap: I advise purpose-driven individuals who want to make a big change, level up their career, start a new chapter, or launch a thing. I still have a few spaces available in April for my Take a Big Leap Advisory program. Respond here, and we can schedule a time to discuss.
Help Non-Profit Team Members Level Up their Storytelling. In this three-part series, I can work with your team to help you elevate your organization's communications and storytelling skills. Want more details? Respond here to schedule a time to talk.
Digital Transformation. Need to bring your work online? I'm here to help. Contact me for details.
---
Stay in touch.
Sign up for our newsletter / podcast to get emails of great stories like this.
[ssba]