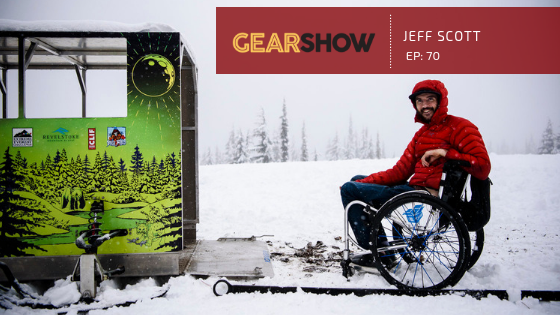 Imagine a world where adventure and outdoor recreation are accessible and affordable for everyone with a disability. That's the vision behind the Live it Love Foundation, led by executive director Jeff Scott who is joining us today. Jeff had an accident in late 2010 that left him a quadriplegic.
Life with a disability has many layers of challenges. Jeff has no feeling below his collarbone, no triceps, no grip strength. He shares with us his accident and how he adapted to his new life, not only physically, but also mentally. If you can believe it, gratitude played a big role.
Almost two years after his accident, Jeff began to sit ski. But skiing inbounds and on groomers just doesn't have the same feel. That's when he and his team developed the lunchbox – a trailer designed to be pulled behind a snowcat, to give four sit-skiers access to the backcountry.  It's truly a sight to see: Lunch Box Video
Thanks to Jeff and the programs offered through the Live it Love it foundation, they are working hard to empower through adventure and outdoor recreation for people with disabilities. Allow them to reconnect with sports and outdoor communities after a disabling injury or illness.

Where to find Jeff:
How to Listen to Podcasts
There are a number of ways to access this (and other podcasts). You can listen directly from this page by clicking that orange play button above or the download link.
If you are on an iPhone, go to iTunes and subscribe. It will be added to your Apple Podcasts app which comes by default on your iPhone. Once you do that, you can browse around and add others to your podcasts:
On your Android phone, listen to it on Google Play, preinstalled on your phone:
Stitcher is another great app for listening to podcasts. Clicking below goes direct to The Gear Show but install the app and browse around for others: Lastly, I wanted to share with you a new app for finding and listening to podcasts – it's called Radio Public. You can easily import your podcast list from your current app, explore new ones from curated lists, create your own playlist and share playlists with others. Find The Gear Show on Radio Public.
Want to do me a huge favor?
Reviewing and sharing are the most helpful ways to get this in front of new listeners.
Make sure and get the next episode in your inbox – subscribe right up there, top right of this page.
If you enjoyed this podcast, I would LOVE it if you reviewed it here on iTunes! It makes a big difference!
I really want to hear from you – questions, topic and guest suggestions, anything. Talk to me in the comments below or here.
See you next week!
[ssba]