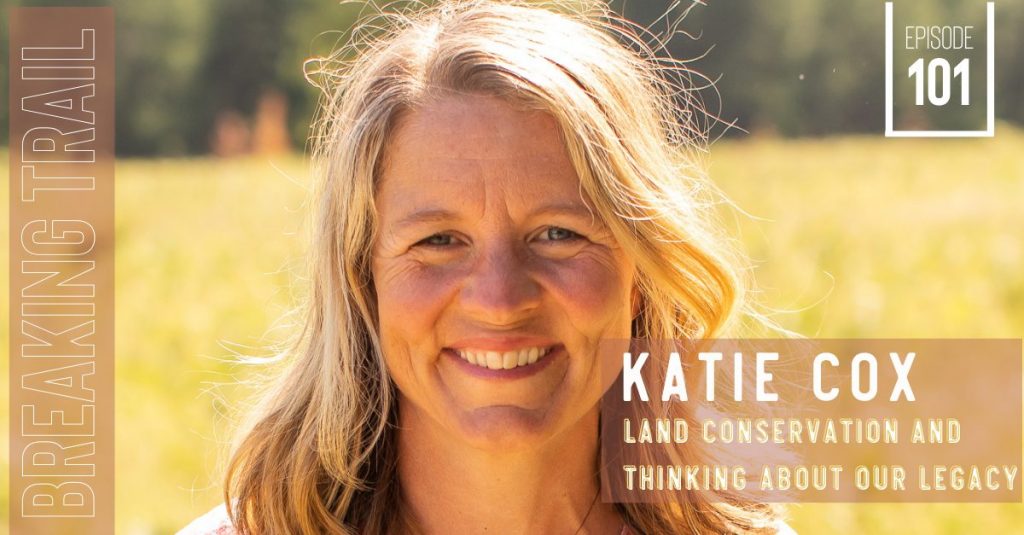 Katie Cox brings her background in architecture and design to the world of land conservation and I love talking to people who find purpose through two disparate passions. As the executive director of the Kaniksu Land Trust, she brings a new approach to conservation and we talk about the impact it has on the community. It will give you thought on how it can change yours.
If you are running in Sandpoint on trails early in the morning, you are likely to pass Katie Cox during her morning run. Katie's love of nature was cultivated during her youth, growing up in the wilds of Idaho. Summers were spent swimming in lakes, backpacking into the Frank Church Wilderness and taking long drives around the Palouse wheat fields. Born and raised in Moscow and Elk City, Idaho, Katie has always believed that spending time in nature is integral to one's growth. She and her husband, Brian, believe in cultivating these same values and traditions in their three young girls.
Katie has spent her lifetime intersecting various realms of education. Her mother taught junior high in Moscow and then was a teacher and principal at the small school in Elk City. Because of this modeling, Katie highly values the role education has played in her life, grateful for the opportunities it provides for everyone. Katie received her B.S. in Education from the University of Idaho and a Masters in Architecture from the University of Washington. Thus far, Katie has focused her professional life in the fields of Education and Architecture, with a particular interest in building community. Her career started at the University of Idaho where she worked directly in support of education, focusing on organizing and supporting large capital projects and a variety of programs for the university. For the last decade she has had her own architecture practice while also wearing many hats in volunteer roles, most notably her work as co-chair of the Pine Street Woods capital campaign.
The threads of Katie's life have woven together her deepest passions — a love of the Idaho landscape, teaching and learning, bringing people together, and spending time outdoors. This makes her the ideal advocate for Kaniksu Land Trust. Katie looks forward to sharing the good work of KLT with its regional community, focusing on growing the conservation, education, and recreation programs.
In her spare time, you will typically find Katie with her family running, biking, swimming, or skiing.
We had a great conversation about the projects that they are working on, and how small grassroots nonprofits can work together to make really big projects happen. I am going to stop and turn it over to our conversation so we can jump right into it.
So let's listen in and gear up for what's next.
Where to find Katie and other links:
OR
Want to do me a huge favor?
Reviewing and sharing are the most helpful ways to get this in front of new listeners.
Make sure and get the next episode in your inbox – subscribe right up there, top right of this page.
If you enjoyed this podcast, I would LOVE it if you reviewed it here on iTunes! It makes a big difference!
I really want to hear from you – questions, topic and guest suggestions, anything. Talk to me in the comments below or here.
---
Stay in touch.
[ssba]