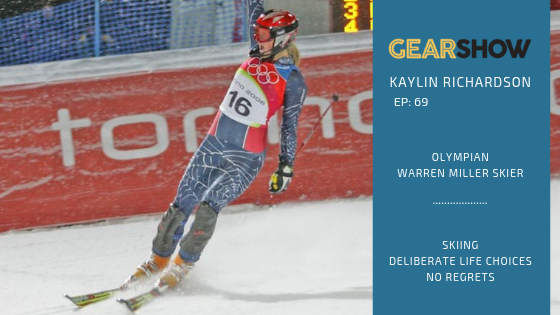 Everyone in the Olympics has the talent the to win. But we don't all have what it takes mentally to win. – Kaylin Richardson
Happy New Year, my friends. We are back after a month off and have some awesome guests with stories of inspiration queued up for you in the coming months.
And boy, do I have a fun conversation to start off your new year today. Kaylin Richardson is a ten-year U.S. Ski Team veteran, two-time Olympian (Torino 06′ and Vancouver 10′), and four-time National Alpine Champion. After retiring from the World Cup in 2010, Kaylin fell even deeper in love with the sport when she discovered backcountry skiing. As a reincarnated big-mountain skier, in addition to winning the Freeskiing World Tour's North American Championship in 2012, Kaylin has been featured in seven Warren Miller films, including this year's Face of Winter. Kaylin has also expanded her expertise as a writer, speaker, commentator, and television personality on VH1, NBC Sports, and as the Olympic Special Correspondent for The Weather Channel. 
She is an all-around badass at skiing and at life. She was a blast to talk to and I specifically saved this as a perfect episode to listen to as we all set new goals and new benchmarks for the new year.  
We start the conversation by establishing our mutual joy in skiing, so sit back and relax and revel in the lushness. Then, she shared so much about her racing career and the difference it takes to race in the top tier – what the mental edge really looks like. And it's interesting because she did race in the top tier but, as an example, she didn't medal in the Olympics. Did she fall short of her potential or was she meant to go on and do other things? Kaylin's ability to be deliberate in her choices, and not dwell on regrets has led her into a variety of endeavors before she landed herself in the Warren Miller ski films and as she said, "She had no idea life could get better after her US Ski team career."  
My takeaways on this one – be kinder to yourself as you set goals, and have faith the most exciting stuff is yet to come.
Where to find Kaylin:
How to Listen to Podcasts
There are a number of ways to access this (and other podcasts). You can listen directly from this page by clicking that orange play button above or the download link.
If you are on an iPhone, go to iTunes and subscribe. It will be added to your Apple Podcasts app which comes by default on your iPhone. Once you do that, you can browse around and add others to your podcasts:
On your Android phone, listen to it on Google Play, preinstalled on your phone:
Stitcher is another great app for listening to podcasts. Clicking below goes direct to The Gear Show but install the app and browse around for others: Lastly, I wanted to share with you a new app for finding and listening to podcasts – it's called Radio Public. You can easily import your podcast list from your current app, explore new ones from curated lists, create your own playlist and share playlists with others. Find The Gear Show on Radio Public.
Want to do me a huge favor?
Reviewing and sharing are the most helpful ways to get this in front of new listeners.
Make sure and get the next episode in your inbox – subscribe right up there, top right of this page.
If you enjoyed this podcast, I would LOVE it if you reviewed it here on iTunes! It makes a big difference!
I really want to hear from you – questions, topic and guest suggestions, anything. Talk to me in the comments below or here.
See you next week!
[ssba]