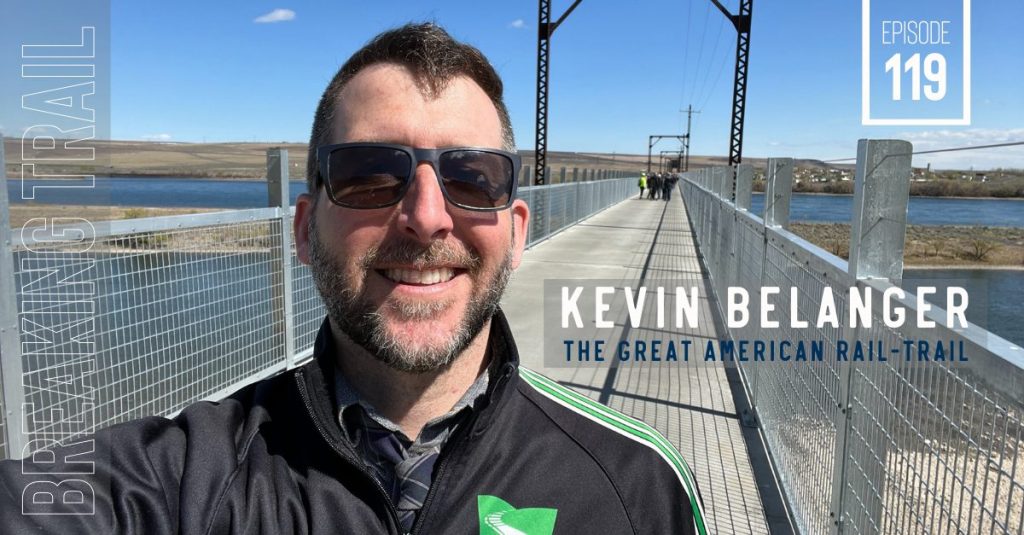 Before joining the Rails-to-Trails Conservancy team in 2016 as a trail planner, Kevin Belanger spent many years in the active-transportation world. He received master's degrees in both Environmental Studies and Community and Regional Planning from the University of Oregon, where he wrote his thesis on walking and biking habits in suburban multifamily housing. After completing his formal education, Kevin spent time in the consulting world and then as the bicycle and pedestrian coordinator for a suburb in Maryland.
Lately, Kevin is focused on an exciting project I'm so excited to share with you all – it's the Great American Rail-Trail, a signature project of Rails-to-Trails Conservancy to connect the country via a 3,700-mile-long multi-use trail between Washington, DC and Washington State. His favorite part of the job is seeing the light bulb go off in people's heads when they see what this trail can do for them and their communities.
Today we'll talk about yet another human being who left a job that looked great on paper but wasn't filling up his cup – and how he turned that around into work and a life he is passionate about.
We talked about:
The importance of active transportation
The impact of trails and bike and pedestrian access on individuals and communities
Launching a massive initiative with many partners and private landowners
So with that, let's listen in and gear up for what's next.
OR
Where to find Kevin and other links:
Want to do me a huge favor?
Reviewing and sharing are the most helpful ways to get this in front of new listeners.
Make sure and get the next episode in your inbox – subscribe right up there, top right of this page.
If you enjoyed this podcast, I would LOVE it if you reviewed it here on iTunes! It makes a big difference!
I really want to hear from you – questions, topic and guest suggestions, anything. Talk to me in the comments below or here.
---
Stay in touch.
Sign up for our newsletter / podcast to get emails of great stories like this.
[ssba]