In the same (half) year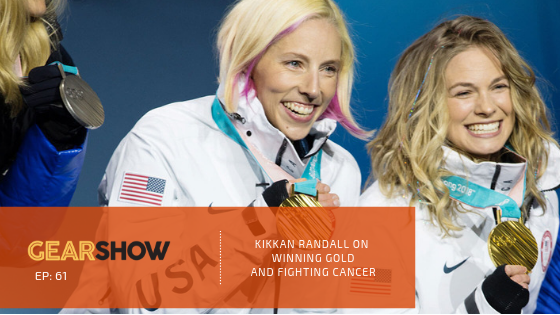 Kikkan Randall is an Olympic champion cross-country skier. She has won 17 U.S. National titles, taken home 17 U.S. Championships, made 16 podiums in the Stage World Cup, made five trips to the Winter Olympic Games and had the highest finish by an individual U.S. woman at the World Championships (2nd in the Sprint FS at Liberec, CZE in 2009). She was the first American female cross-country skier to take a top ten finish in World Cup competition, to win a World Cup race and to win a World Cup discipline title.
In 2013, she teamed up with Jessica Diggins to win the first ever American FIS Nordic World Ski Championships gold medal in the team sprint. She and Diggins won the United States' first-ever cross-country skiing gold medal at the Winter Olympics in the women's team sprint at Pyeongchang in 2018.
And she's on the Gear Show podcast this week! I worked very hard not to fangirl this interview. I hope I succeeded, but I was curious about a lot of things. First, of all, if you have not seen her and Jessie Diggins' Olympic gold medal finish, I encourage you to check it out before you listen. It is off the hook dramatic and awesome!
Kikkan has had quite a year. Shortly after winning gold, at the peak of her career, she learned she will have to wage a new battle: with breast cancer.
We cover a lot in this conversation. I asked her how she handles big performance days. What is it like the morning before an Olympic Gold medal win, ya know? I get butterflies just heading out to our local trail race. She walks us through her training program at a high level. We talk about her battle with breast cancer, her pledge to stay active, focused and positive through it. Lastly, I asked Kikkan about her community engagement. So many athletes inspired her as a kid. She pays it forward now.
Let's listen in gear up for what's next.
Have questions? Guest suggestions? I'd love to hear from you. Contact me here or in the comments below.
Where to Find Kikkan
How to Listen to Podcasts
There are a number of ways to access this (and other podcasts). You can listen directly from this page by clicking that orange play button above or the download link.
If you are on an iPhone, go to iTunes and subscribe. It will be added to your Apple Podcasts app which comes by default on your iPhone. Once you do that, you can browse around and add others to your podcasts:
On your Android phone, listen to it on Google Play, preinstalled on your phone:
Stitcher is another great app for listening to podcasts. Clicking below goes direct to The Gear Show but install the app and browse around for others: Lastly, I wanted to share with you a new app for finding and listening to podcasts – it's called Radio Public. You can easily import your podcast list from your current app, explore new ones from curated lists, create your own playlist and share playlists with others. Find The Gear Show on Radio Public.
Want to do me a huge favor?
Reviewing and sharing are the most helpful ways to get this in front of new listeners.
Make sure and get the next episode in your inbox – subscribe right up there, top right of this page.
If you enjoyed this podcast, I would LOVE it if you reviewed it here on iTunes! It makes a big difference!
I really want to hear from you – questions, topic and guest suggestions, anything. Talk to me in the comments below or here.
See you next week!
[ssba]