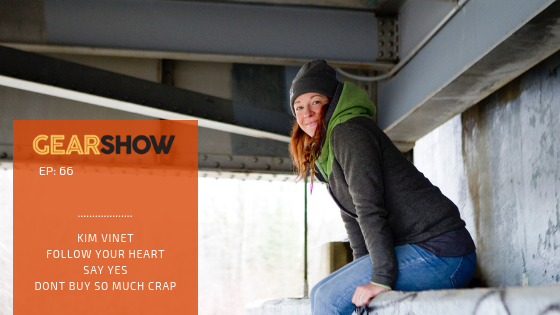 Kim Vinet is a skier, an earth scientist and a public speaker. As we enter the crazy holidays here in the U.S., I hope this episode will serve as a reminder to value what matters.
Kim lives in Revelstoke, BC with her husband and two dogs. She is a sponsored athlete and competitive freerider on the Freeride World Tour Qualifying series (formerly the Freeskiing World Tour). This love of skiing and the outdoors has driven her on an exploration of the hypocrisy of loving the outdoors, possibly to death and it has driven her into a lifelong career in sustainability. She hold a B.Sc. Hons. degree in Earth and Atmospheric Sciences from the University of Western Ontario. Following graduation, her specialization in Sedimentology and Sequence Stratigraphy led her to Calgary, AB to apply her skills to petroleum exploration. (We'll talk about this)
Never feeling especially comfortable with the environmental impact of petroleum production, she turned to regulatory compliance work and project management. This experience created a solid foundation for understanding energy markets and government policy.
Kim, like many guests on this podcast, rejected social conventions and the traditional way of making a living when she left her high paying job (and it's accompanying lifestyle) to lead a more conscious existence in Revelstoke
So, we have a lot to explore and tease out of that story – things like:
How to follow your heart and take that big leap.
Overcoming uncertainty along the way.
How to cut your carbon footprint and as we enter the holiday season, to be more conscious about the things we buy.
The joy in living a simpler life with fewer things.
She had quite the circuitous path to get to where she is now and for those of us who are in the middle of our own crazy, seemingly directionless path, maybe you'll find some inspiration in the fact that it somehow all comes together and works out in the end.
Where to Find Kim
How to Listen to Podcasts
There are a number of ways to access this (and other podcasts). You can listen directly from this page by clicking that orange play button above or the download link.
If you are on an iPhone, go to iTunes and subscribe. It will be added to your Apple Podcasts app which comes by default on your iPhone. Once you do that, you can browse around and add others to your podcasts:
On your Android phone, listen to it on Google Play, preinstalled on your phone:
Stitcher is another great app for listening to podcasts. Clicking below goes direct to The Gear Show but install the app and browse around for others: Lastly, I wanted to share with you a new app for finding and listening to podcasts – it's called Radio Public. You can easily import your podcast list from your current app, explore new ones from curated lists, create your own playlist and share playlists with others. Find The Gear Show on Radio Public.
Want to do me a huge favor?
Reviewing and sharing are the most helpful ways to get this in front of new listeners.
Make sure and get the next episode in your inbox – subscribe right up there, top right of this page.
If you enjoyed this podcast, I would LOVE it if you reviewed it here on iTunes! It makes a big difference!
I really want to hear from you – questions, topic and guest suggestions, anything. Talk to me in the comments below or here.
See you next week!
[ssba]