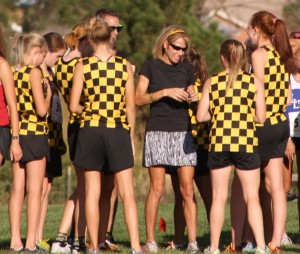 It's time for the Friday Big Leap.  We have yet another Counselors Academy friend and runner this week – Sydney Ayers!
About five years ago, a friend asked if I'd help coach a high school cross country team. The idea sounded appealing and the timing was good: I previously had made a decision to devote my volunteer time to education and was just wrapping up a four-year commitment getting a new charter school for at-risk youth off the ground. I was in the market for a new opportunity to serve. I also am a life-long runner who loved every minute I spent competing in both cross-country and track during high school.
But there was one drawback – I had never coached a sport, let alone at the high school level.
The closest thing I had done was teach horseback riding lessons to mostly beginner children and adults. This was something totally different. I was committing to help high school kids learn how to run better, compete with grace, and be part of a team.
Of course, I did what any good public relations practitioner would do. I convened an informal focus group comprised of  friends and mentors. I asked each person if he or she thought that by adding cross-country coaching into my already full schedule, it would appear that the practice of public relations wasn't important to me anymore. To a person, they all said, "No." Several added that coaching represented an exceptional chance to guide and serve as a role model for young people; showing them that they can be successful in the business world as well as in the sport of their choice.
So I leaped not knowing what a truly profound thing I was getting myself into.
At first, I made a lot of rookie mistakes.
I learned that some kids will try to get away with doing less than what is asked of them but will still expect to be successful.
I learned that if I always beat them in a practice, they will never develop the confidence to run well on their own.
On the flip side I learned that if they caught me intentionally allowing them to win, they wouldn't trust me.
And finally, I learned that once you earned their respect, you have to work hard to keep it every single day.
I was hooked.
I loved these kids and really wanted them to become the best runners possible. For some, that meant gaining a berth at the State meet. For others, that meant breaking 25 minutes in a 5K. For still others, that meant developing a love for running and a desire to do it long after graduation. It didn't matter to me what their ultimate goals were. I just wanted to be a positive part of their high school experience.
Then this season, three days in, I learned I have a stress fracture in my hip. That long-time friend who recruited me into coaching? He also happens to be my doctor and the one who had to deliver the bad news to me. Six weeks of no running. The high school cross-country season is among the shortest of the year. Six weeks takes me out until the very last Invitational before we enter into the championship part of our season.
I was devastated.
I also was faced with a hard decision. Do I throw in the towel, abandon the team and allow myself to heal without the distraction of coaching? Or do I try my best to coach the team from my bike and on the ground taking times when biking alongside of them is impossible?
Turns out I am not much of a quitter. So while I might have wanted to crawl into a hole for six weeks, I made what amounted to big leap number 2. I cowboyed up, strapped on my bike shoes, pumped up my tires and have been riding with the kids every day since. In the beginning, I felt disconnected from them. They are running and I am biking. We may be covering the same route but not in the same way.
That all evaporated last week when after a practice I found myself in the center of a circle of about 20 of them. They all wanted to talk with me – about the practice, about the upcoming meet, about their first week of school, about how my hip felt. It was in that moment that I realized I had become a real coach.
In my case, it would seem that one big leap led to another. And after all, isn't that the purpose of making a big leap in the first place?
Sydney Ayers is a senior public relations counselor who is highly passionate about what she does, education advocate, proponent of green/clean technology, mother, runner & writer.
[ssba]