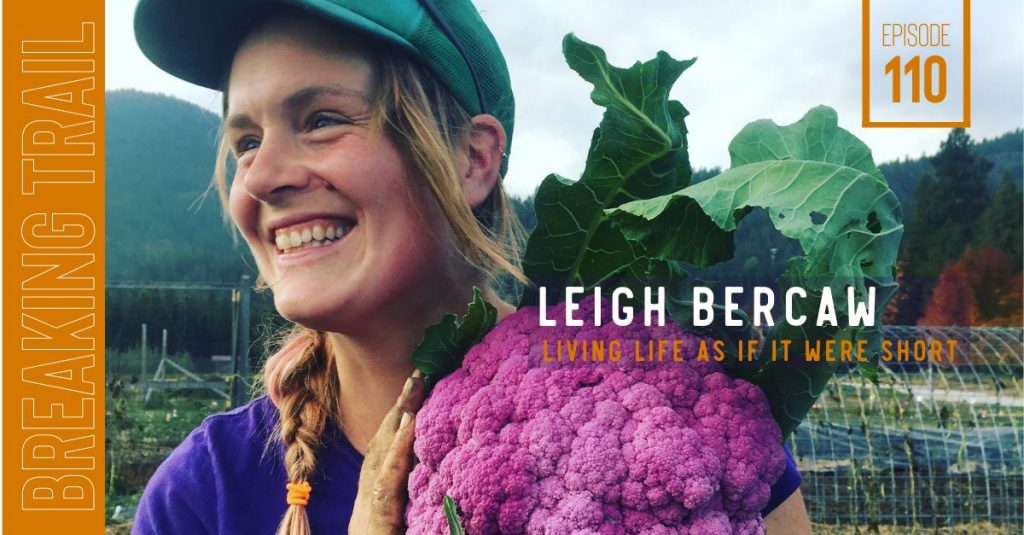 What happens when you think you have eight years left to live and then you find out it's actually probably going to be ok?
I learned so much from Leigh Bercaw of Blue Fingers Farm for the season finale of Breaking Trail podcast. First of all, Leigh was super career-focused when a health prognosis meant she more than likely had only 8 years at the most to live. You're going to learn how this changed her outlook on life and therefore, her life. How something so seemingly terrible turned out to be really kind of awesome maybe in the end. (I'm not sure – …..)
Today, you're going to learn more about where your food comes from and I hope it makes you think about the decisions you make next time you're at the grocery store vs the farmers market. We're going to talk about the farce that is organic farming and what we really want to see- regenerative and small-scale farming. You'll learn about carbon sequestering and why the U.S. has a super productive, yet highly unsustainable food system right now. We need to make a change. And it starts by eating and buying local.
We wrap it up by getting philosophical on life using skiing as a metaphor. It doesn't get any better and this is where I'd like to take the show for next season – so if you have guest ideas, please send them my way. I am always looking for guests who are blazing their own path, breaking trail if you get what I mean, and finding solutions to save the world.
So, with that, let's listen in and gear up for what's next.
OR
Where to find Leigh and other links:
Want to do me a huge favor?
Reviewing and sharing are the most helpful ways to get this in front of new listeners.
Make sure and get the next episode in your inbox – subscribe right up there, top right of this page.
If you enjoyed this podcast, I would LOVE it if you reviewed it here on iTunes! It makes a big difference!
I really want to hear from you – questions, topic and guest suggestions, anything. Talk to me in the comments below or here.
---
Stay in touch.
Sign up for our newsletter / podcast to get emails of great stories like this.
[ssba]